All of the Fostoria American items shown below have informational posts attached to them. While individual photos should aid in identification of items, other data – such as measurements and production years – are also disclosed. Previously, most collectors would have had to purchase a book to retrieve this type of detailed information. My hope is that you find this Photo Gallery a valuable and trusted resource. Happy collecting!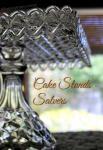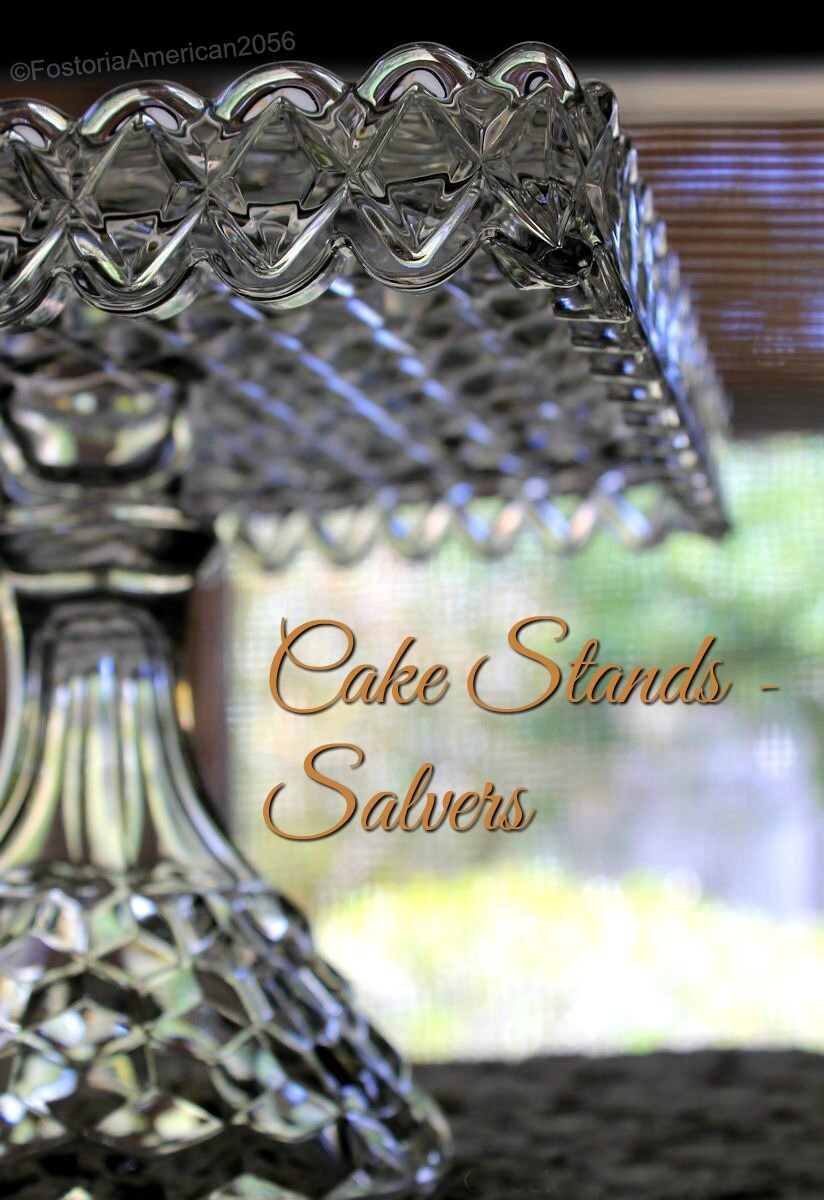 Cake Servers
Other items that could be used for serving cake (such as Torte Plates) were also made; however, information about those type of items are listed in the Plates category.  If the official name of the piece did not include the words "Cake" or "Salver", then those items will be posted in another appropriate category.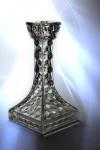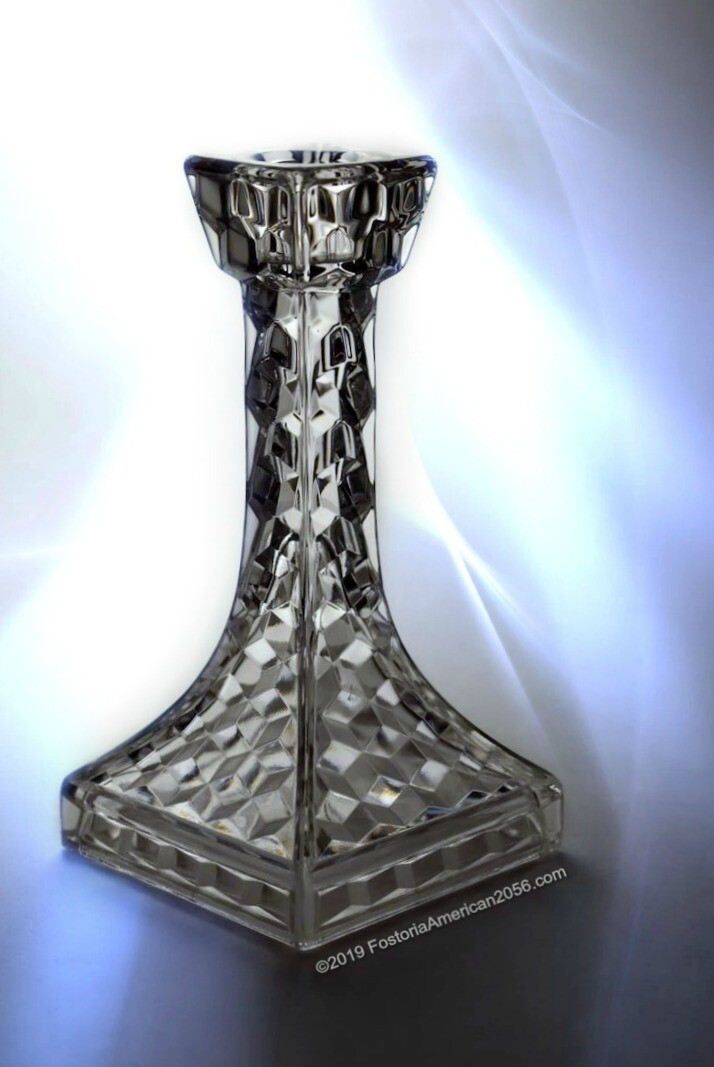 Candle Holders & Lighting
The Candle Holders & Lighting section is the current category I am working on. This category will not include electric lamps that were made from Fostoria American products, then sold and marketed by third parties. It will include lamps that were intended to be used with candles, such as the Hurricane Lamp.
Coasters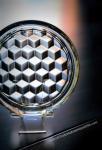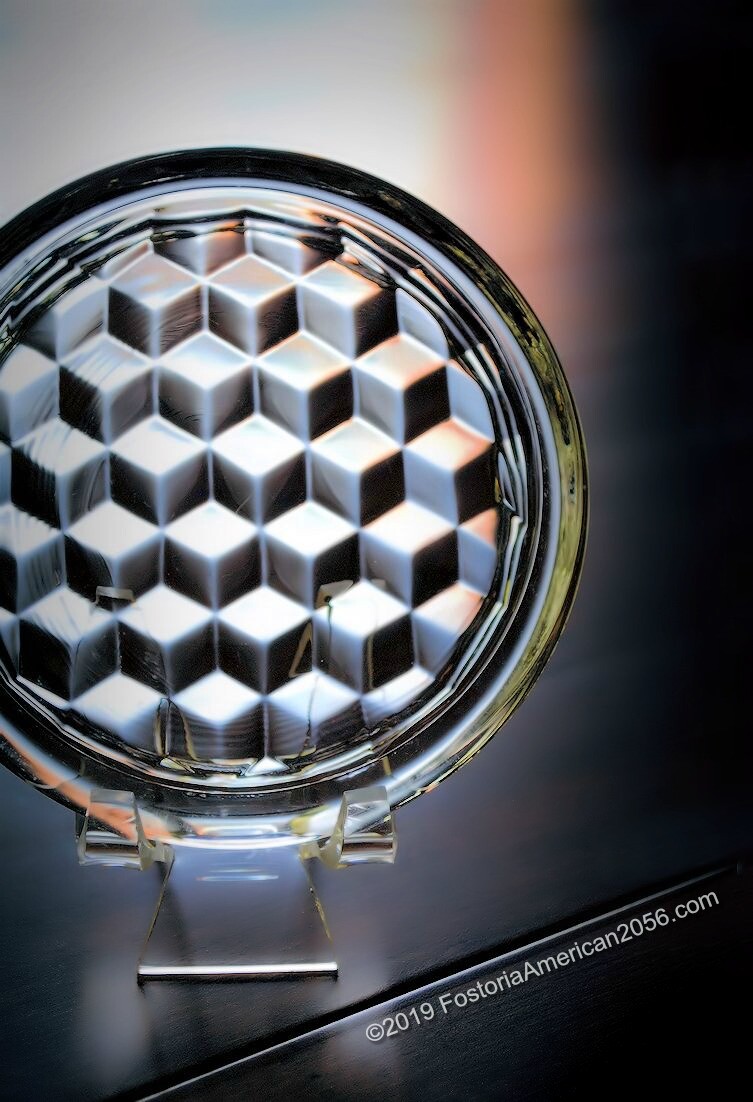 The Coasters category is complete. Fostoria Glass Company made three different Coasters in their American pattern.  While Fostoria did make Coasters in other patterns, including their American Lead Crystal giftware line, they should not be confused with those of the American pattern.
Drinkware

This category is complete, listing every drinking vessel that was produced in clear crystal.  Most of the items in Drinkware are stems, tumblers, cups, mugs, etc.  Other items often used with drinking glasses, such as punch bowls and decanters, will be listed in their own respective category.
Plates, Platters & Trays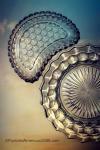 This category includes a variety of plates, platters, and trays.  Tortes, which are considered plates, are also listed.  Some items might be listed in two different categories.  For example, the Footed Cake "Plate" will be under the Plates category, as well as the Cake Stands and Salvers category.
Punch Bowls | Bases | Cups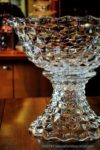 This category is complete.  All the clear crystal Punch Bowls, Punch Bases, and Punch Cups are featured.  Please note that the punch cups are also shown in the Drinkware category as well.  Descriptions are based from my own personal research of official Fostoria documents and/or catalogs.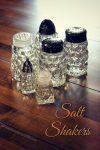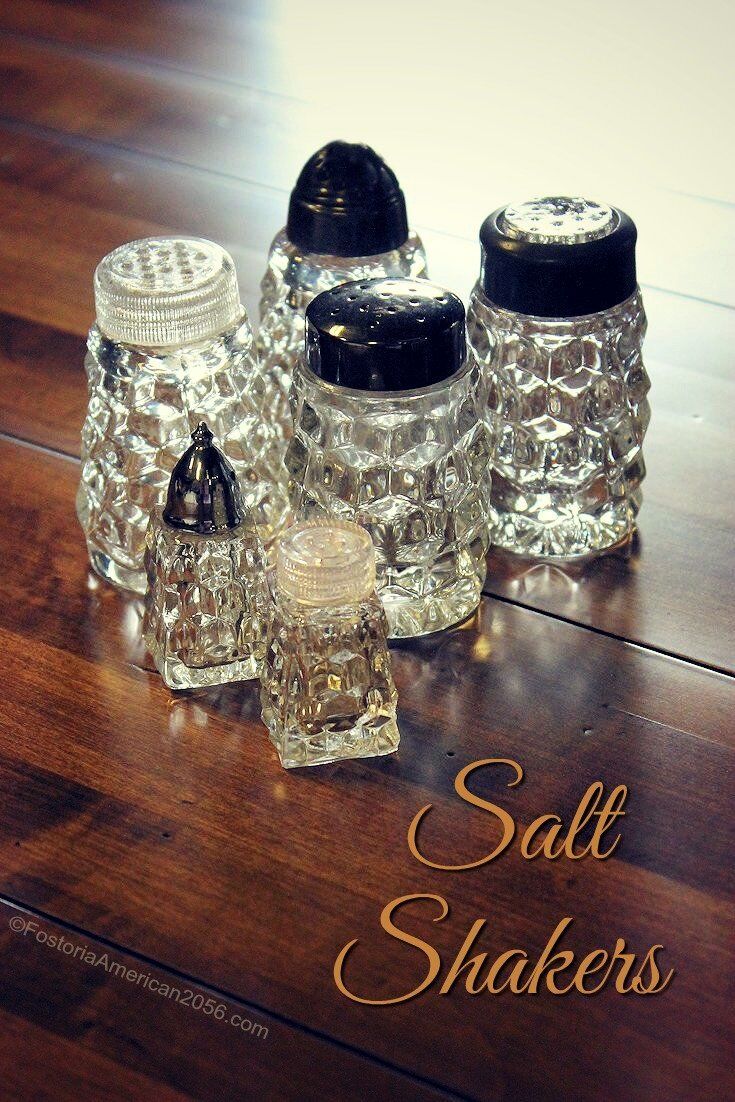 Salt Shakers & Servers
The American pattern produced several different types of salt and pepper shakers over the years.  While there were other types of shakers made (such as a Cheese or Sugar Shaker), this particular category displays only those pieces whose sole purpose was to serve salt and pepper.
Vases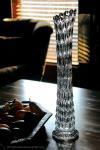 This category showcases many of the assorted vases, urns and flower pots produced in the American pattern.  Regarding photos, illustrations will be shown when I have not personally taken a picture of that specific item. My descriptions are based from official Fostoria documents.
For all other items, please see below …