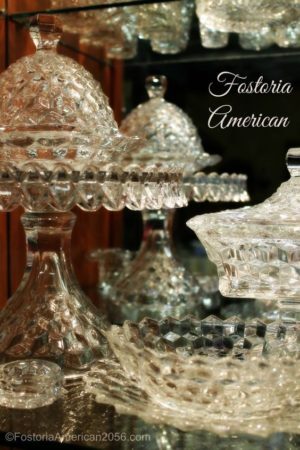 It is wonderful to have you visit and learn more about the Fostoria American pattern, Line #2056.  The original debut of this website was in 2015, and since that time a lot of research, photos, and content have been added.  I am proud to say that there are now over 150 informational posts available on a variety of different American items.
Collectors, from the beginner to the advanced, should find the information contained within this website helpful.  While individual photos should aid in identification of items, other data – such as measurements and production years – are also disclosed.  Previously, most collectors would have had to purchase a book to learn of these details.  I am more than happy to share this information, as it becomes available to me.
Measurements – Measurements are in inches, and are taken from various published catalogs.  Please note; however, that catalog measurements might not always be accurate.  Therefore, I always measure each piece that is featured on this website and make note of it in the item description.  Do expect slight variations in size, due to the handmade nature of the product and slight mould changes that might have occurred during the production years.
Market Value – Since I am not a licensed Appraiser, I do not give any opinions on the current market value for a particular item.  Most collectors, including myself, simply go to eBay to determine what an item might be worth in today's market.  It is very easy to research the "sold" listings for your desired item, and all pricing data will be disclosed.
Production Years – The dates posted are only reflective for items that were actually produced by the Fostoria Glass Company.  Reproductions from other glass companies are not included in the "Production Dates" field.
Thank you for stopping by, and I hope that you will find this website a very useful tool for your aspiring (or already established) collection of Fostoria American crystal.