Item Number:  397
Diameter:  6″
Production Dates:  1932-1982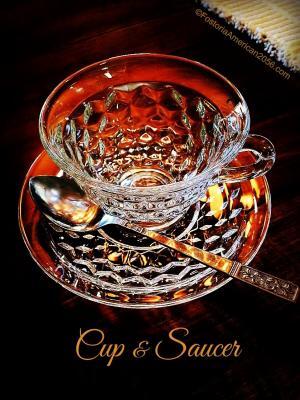 The Saucer is probably one of the most overlooked items in the Fostoria American line.  You can still find them in abundance today, and for not much money.  While some folks say the Saucer is not that worthy or needed in today's world, I do know that a collection of Fostoria American would not be considered a complete dinner service without the lovely Saucer.
Even though the American pattern was introduced back in 1915, you might be surprised to learn that the Saucer and Dinner Plate pieces were not added until the 1930's.  The Saucer is approximately 6″ in diameter, with a plain center.  It is not considered a rare item, and to tell the truth – is one of the easiest pieces to find in the aftermarket.
While you can use the Saucer with other cups, it is typically used most often with the Footed Cup.  They make a fine pair, indeed.  Because of the plain center in the middle of the plate, your preferred cup will have a solid base on which to sit.
If you are interested in learning more about current availability and pricing for this piece, please click the following sponsored link for available Saucers on eBay.