This is the Fostoria American Oblong Butter and Cover dish in the Fostoria American line.  This particular piece has an approximate height of 2 1/8″, a length of 7½" and a width of 3¼".  All pieces can vary slightly in size, as each piece was handmade.
The butter dish comes in two pieces, with a bottom and a cover (or lid.)  It is important to note that Fostoria did produce another butter server in their American line – the Round Butter and Cover.  It was introduced first and is generally considered more rare and valuable than the Oblong piece.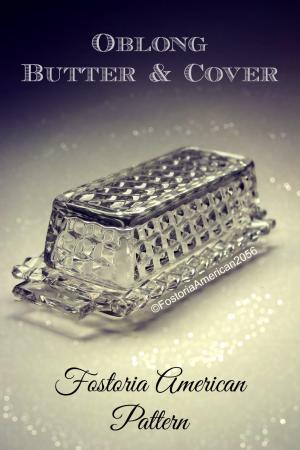 This dish can be used in a variety of ways, other than for just serving butter. If the lid is inverted, or turned upside down, it can act as a beautiful storage or flower box.  It would be beautiful set on a table filled with individual sugar or tea packets, allowing guests to retrieve them in an orderly fashion.
American Whitehall also produced an oblong Butter/Cover Set, which included the tray and cover as well.  These two dishes are remarkably similar; however, only one can be genuine Fostoria American.
If you are interested in purchasing this piece, please click the following sponsored link for available Butter Dishes on eBay.