Item Number:  #297
Height:  5¾"
Production Dates:  1915-1974
This is the round Fostoria American Butter and Cover.  Fostoria Glass Company officially made two types of butter dishes, the one you see here … and the Oblong Butter and Cover.  The round Butter and Cover was introduced in Fostoria's 1915 original debut of the American pattern, whereas the Oblong Butter and Cover did not make an appearance until many years later.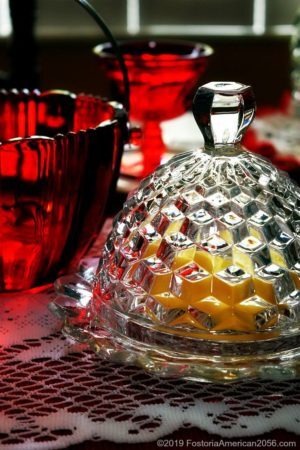 In most scenarios, due to it's age and beauty, the round Butter and Cover is usually the more sought after and valuable variation of the two butter dishes. The approximate height of the Butter Dish and Cover is 5¾", and the approximate diameter of the Butter Dish (Plate) is 7¼".
Fostoria's butter dishes are really quite impressive.  They are substantial pieces of glass, with great clarity and weight.  The Butter and Cover lived a long and beautiful life.  It was produced from 1915 – 1974, making it the longest production-run butter dish in the American line.  People adored it, and still do.
While I still use mine for it's original purpose, I also use it in other unconventional ways.  They make beautiful mini-cake domes and are perfect for storing and serving cupcakes in grand style.
There really is no limit as to how you can use these beautiful treasures.  If you are interested in purchasing a similar piece, please click on the following sponsored link for available Butter Dishes on eBay.