The Fostoria American Sugar and Cover is a beautiful piece of crystal.  It originally debuted in 1915 under the name "Sugar and Cover".  Many folks; however, refer to this piece as a "Barrel Sugar" because of its appearance. Fostoria Glass continued to refer to this piece as their Sugar and Cover for many years. Decades later, they modified the name to "Sugar and Cover" and/or a "Candy Jar and Cover". Whatever name you prefer to use, this piece can obviously serve sugar, candy, and an assortment of other food items – in grand style.
The Sugar and Cover is about 6¼" tall; however, my own personal piece measures 6½" in height.  The slight difference in measurements is to be expected, especially when you consider that all the American items were handmade.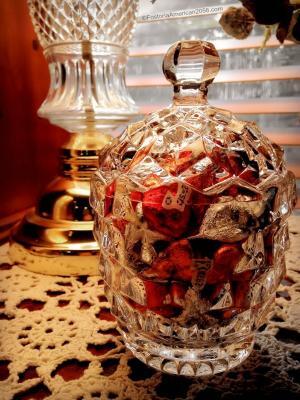 In the original 1915 Fostoria American Catalog Supplement, it was this Sugar and Cover that was predominately featured next to a Cream Pitcher.  The other Handled Sugar and Cover came later, making this particular Sugar and Cover (aka Candy Jar and Cover) one of the first pioneering pieces of the line. Fostoria also produced (circa 1915) a smaller Individual Sugar, without a lid. As you can see, this piece also makes for a beautiful candy dish.  It is easy to understand why Fostoria modified the name several years later.
Please click the following affiliate link for available Sugar and Covers and/or Candy Jars and Covers on eBay.
  Since people sometimes refer to this item by different names, you might need to modify your search terms accordingly.