Item Number:  #687
Height:  2½″
Production Dates:  1915-1982
The Fostoria American Individual Sugar can be found as a separate item, or as part of the 3-Piece Individual Cream and Sugar Set.  The Individual Sugar is a pioneering piece in the American line.  It debuted in the 1915 Catalog Supplement that first introduced the American pattern, and continuously stayed in production until the very end – circa 1982.
The Individual Sugar is about 2½″ tall and it was never available with a cover or lid.  The 3-Piece Set included a third item – a Sugar and Cream Tray, and it has a measurement of approximately 8″ from handle to handle.  The same Tray was used for both the Individual and Tea-sized Cream and Sugar Sets.  Of the two sets, the Individual Cream and Sugar Set is the largest.  The Tea Cream and Sugar Set is the smallest.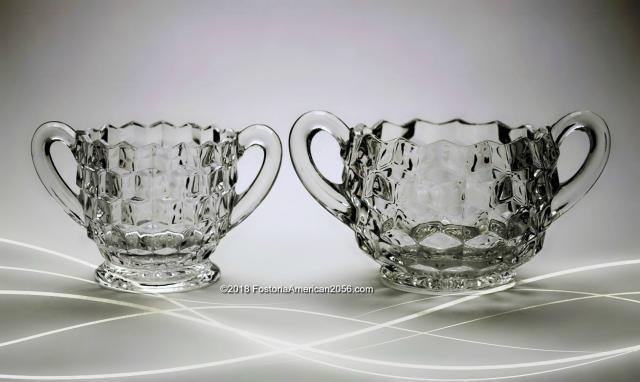 I have posted a photo above that shows the Tea Sugar (on the left) and the Individual Sugar (on the right).  Hopefully this picture will help some collectors distinguish between the two sizes.  Please study the photo, as some published books on Fostoria American have the photos of the Tea Cream & Sugar and the Individual Cream & Sugar 3-Piece Sets reversed, which has created a bit of confusion.
As mentioned earlier, the Individual Sugar was continuously produced until 1982.  The 8″ Tray was not introduced until 1938; however, it also remained in production until 1982.  If you are interested in purchasing similar Fostoria American items, please click the following sponsored link for available Cream and Sugars on eBay.