Item Number:  331
Height:  4⅜"
Production Dates:  1937-1982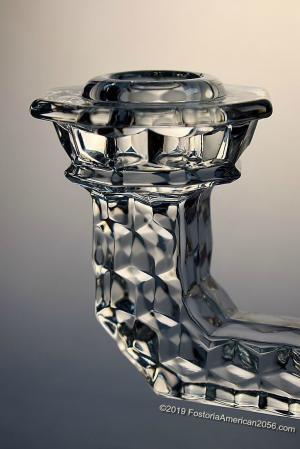 The Twin Candlestick is rather unique.  Unlike the majority of American single candlesticks, this candle holder holds two candles.  It is a candle holder with two branches or arms, of the same height and width.  There are only a couple other candlesticks in the 2056 line that holds two candles, and that is the Duo Candlestick and the 2-Light Candelabra.  All other candlesticks offer service for just one candle.
At the time of its production, the Twin Candlestick was one of the most expensive candlesticks in the American 2056 line.  This beautiful piece is approximately 4⅜" in height, and is about 8½" in width.  Featuring a low profile, with balanced weight for stability, it will seat itself quite comfortably on the table.  The base is about 4½" in diameter.
The arms of the Twin Candlestick are spectacular.  The top and bottom sides of the arms are smooth (void of the cube design), branching inward to a center motif.  The front and back of the arms; however, display the beloved cubed pattern in great artistic flair.  No matter your lighting – dim or lit – these treasures definitely make a statement.
If you would like to learn more about pricing and availability for similar items, please click the following sponsored link for available Twin Candlesticks on eBay.