Item Number:  #332
Height:  6½"
Production Dates:  1936-1958
The Duo Candlestick is one of the finest examples of craftsmanship in the entire Fostoria American line.  From the curved arms to the cubed base, it is a magnificent beauty.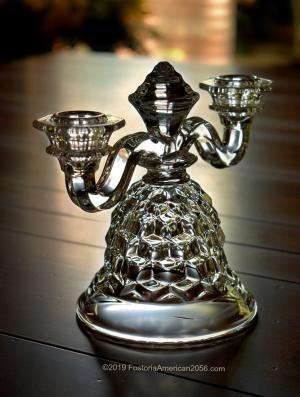 While the Duo Candlestick is approximately 6½" tall, the arms have a wide 8¼" spread.  The base looks like a bell, with a smooth round edge.  Out of all the candlesticks in the 2056 line, this is one of the sturdiest.  It will not fall over easily.
This particular item is almost identical to the 2-Light Candelabra, with the difference being that the Duo Candlestick does not include the 16 U.D.P. or bobeches.  It is one of three candlesticks in the 2056 line that holds two candles.  The other two-candle holders is the Twin Candlestick, and of course, the 2-Light Candelabra I just mentioned.
Every time I gaze upon it I am reminded of an ole'  Southern Belle (Gone with the Wind era) dressed in a long, full gown … reaching out to all her guests as she serves tea and refreshments.  Undoubtedly, this is one of my favorite candlesticks of all time.
If you are interested in learning more about current availability and pricing for this piece, please click the following sponsored link for available Duo Candlesticks on eBay.