Item Number:  C-03
Height:  6½"
Production Dates:  1936-1942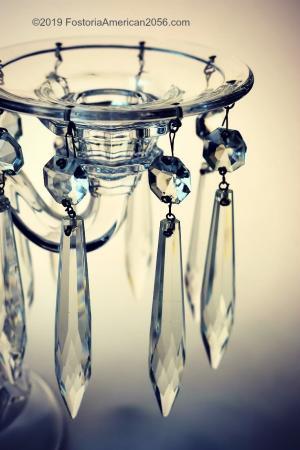 The Fostoria Glass Company produced an array of beautiful candelabra, candlesticks, and candle lamps in a variety of patterns and colors.  They made candlesticks for dresser and perfume sets, as well as candlesticks for formal and informal table settings.  All of these items are beautiful in their own right.  Featured in this post is a beautiful 2-Light Candelabra, with 16 U.D.P., from the infamous American 2056 line.  It's striking, to say the least.
The 2-Light Candelabra is almost identical to the Duo Candlestick, with one exception.  The Duo Candlestick does not include a bobeche, or the hanging prisms.  What is a bobeche?  According to Merriam-Webster, their definition is the following … "usually a glass collar on a candle socket to catch drippings or on a candlestick or chandelier to hold suspended glass prisms".  This definition is perfect for the 2-Light Candelabra, as the bobeche does catch wax drippings and it suspends the gleaming prisms beautifully.
The 2-Light Candelabra is approximately 6½" tall, with a 9¼" spread.  The outside diameter of the bobeche is about 2⅞", and they were produced in clear crystal.  One should take care when moving or storing them, for the pointed ends can chip with careless handling.
If you are interested in learning more about current availability and pricing, please click the following sponsored link for available 2-Light Candelabras on eBay.