Item Number:  16
Approximate Size:  3⅛" H – 6 oz.
Production Dates:  1915-1982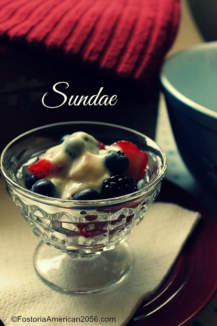 This is the Fostoria American Sundae dish.  Fostoria made several dessert dishes; many were called a "Sherbet" of some type.  The Sundae dish stands alone, and simply by looking at it, one can tell it was appropriately named.  It just looks like it is waiting for a scoop or two of some delicious ice cream!
This is a very versatile dish and can be enjoyed in a multitude of ways.  While the Sundae dish is the perfect size for serving ice cream, it also is wonderful for other treats too.  I like to put individual servings of fruit in them, especially when I want a pop of vibrant color to show through the glass!
If you are interested in learning more about the current availability and pricing of Fostoria American Sundae dishes, please click the following sponsored link for available Sundaes on eBay.