There is an old saying that "Imitation is the sincerest form of flattery."  Even if this statement is only partially true, then the Fostoria Glass Company (and the workers and craftsmen thereof) should have been extremely proud of their accomplishment with the American pattern.  Never have I seen a particular pattern of glass so heavily imitated.  After all, imitators like to copy things that consist of greatness.
The most popular and commonly seen look-alike pattern would be from the Whitehall lines.  I have a page dedicated solely to the Whitehall and/or American Whitehall pattern, which is located here.
The following is a list of popular glass patterns that are very similar to the Fostoria American line.  Not all look-alike patterns are noted in this section, as this topic is too vast to cover on this one page.  More detailed information will be provided in the future, in the form of a PDF Report.  Many of the look-alike patterns posted below were produced right here in the United States, while others were produced as far away as the United Kingdom.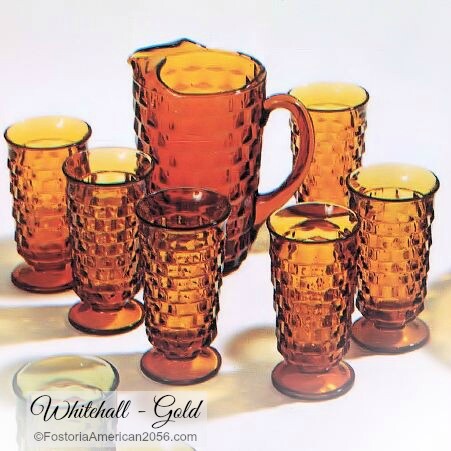 Liebochwitzer Glasshütte Company of Czechoslovakia
The beautiful cube glass pattern from Liebochwitzer Glasshütte Company of Czechoslovakia is remarkably similar to the American 2056 line.  Czech Cube Glass was being produced circa 1925-1928, and its existence has only been brought to our attention in recent years.  We are now aware that this cubed-style glassware was made overseas and sold in England.  As of today, catalog documentation provides definitive proof that the Czech Cube Glass pieces are of European origin.  Czech Cube Glass was not produced by the Fostoria Glass Company.
2077 Suite – James A. Jobling and Co. Ltd.
Another English company that manufactured a line of glassware with a cube form was James A. Jobling & Co. Ltd.  This company's 2077 Suite of products utilizes the cube form; however, it contains an elongated starburst as part of its design.  Jobling produced the 2077 Suite pattern in the early 1900's; however, it was not until the mid-1930's that the Jade Green pieces were introduced.  Primarily, the 3-Handled Salad Bowls and Small Bowls were made in the Jade Green color.  Earlier versions, in limited quantities, can be seen in clear flint glass and a rare turquoise color.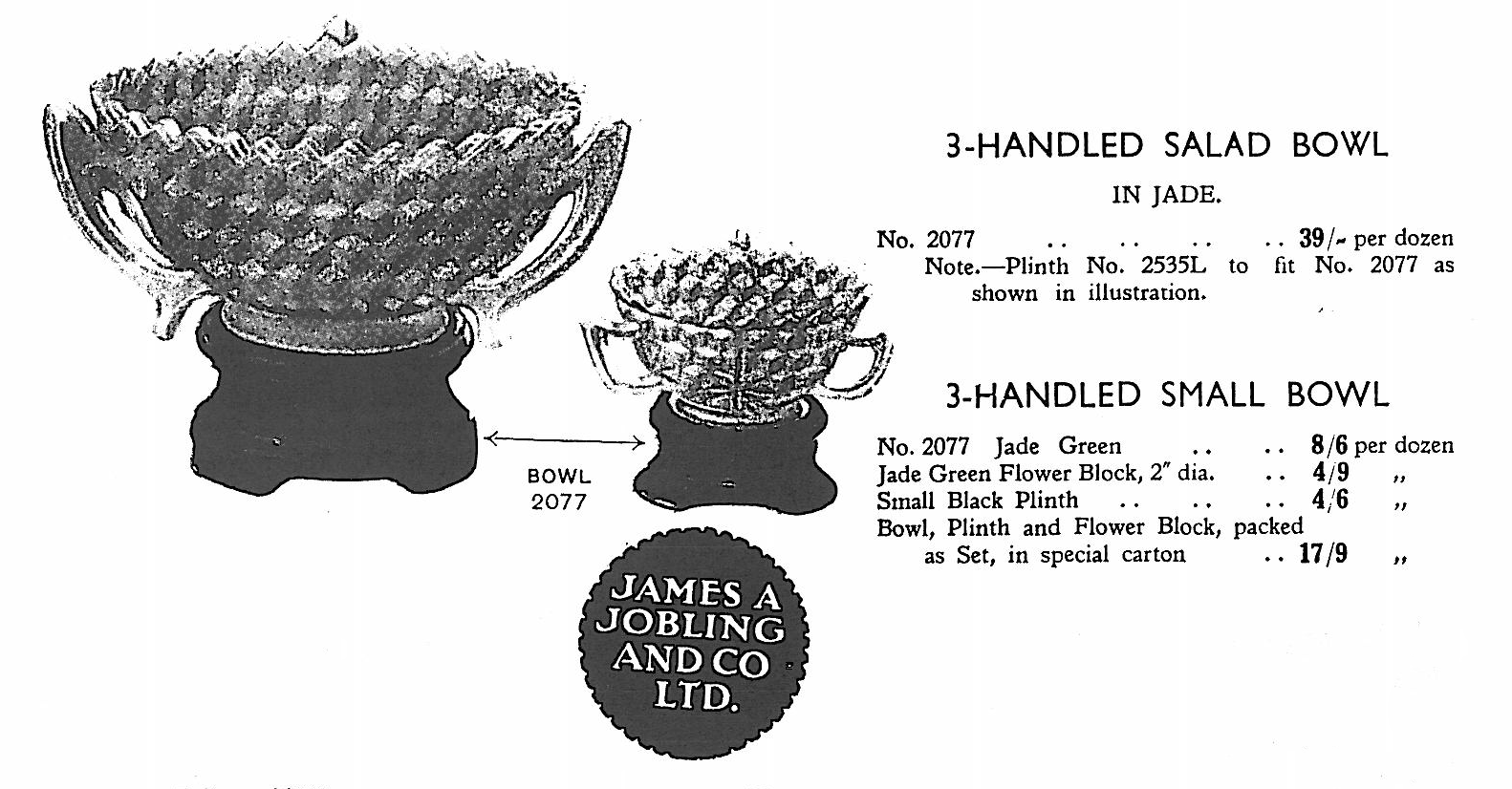 It is important to note that there are published sources that list these items as being "rare" Fostoria American pieces.  In truth, these items look similar to the American pattern; however, they are not part of the Fostoria American Line 2056.  These items were produced in the 2077 Suite pattern, by James A. Jobling and Co. Ltd.  Their origin is European, and they were not offered or produced by the Fostoria Glass Company.  The Jade Green bowls were only made for a few years, as the depression and WWII put an end to production.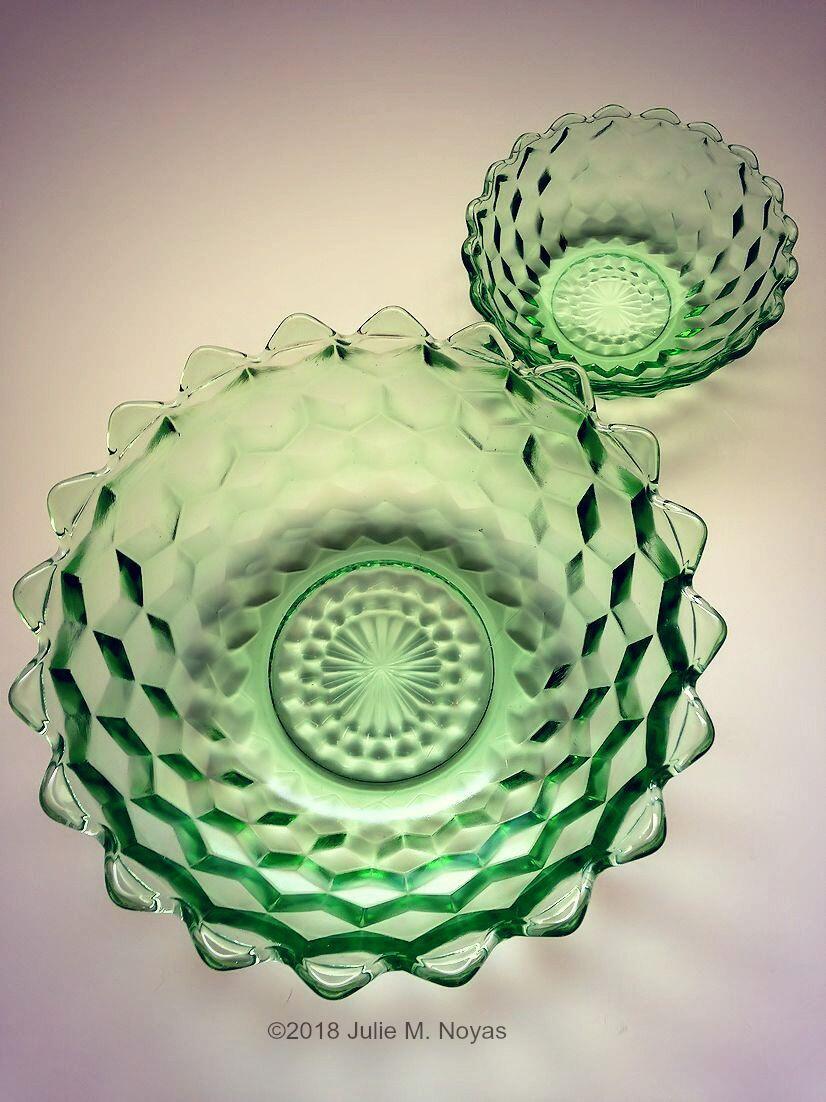 Cube Pattern – Jeannette Glass Company
When one considers all of the glass factories that were in existence in the 1920's, then Jeannette Glass Company has to be considered one of the great pioneers in the industry.  It was an impressive contributor to the depression era, bringing color and glass automation practices to the forefront.
The same person that designed the American pattern (Mr. Phillip Ebeling) also designed the Cube pattern by Jeannette Glass.  Due to patent laws, there had to be differences between the two patterns.  Cube was machine-made, with flatter cubes, and void of expensive finishing touches.  The American pattern was just the opposite, so one should not compare the two.
The Cube pattern mainly produced items in clear crystal, pink, and green.  Other colors have also been seen.  The Cube Pattern did not have a long life, and was only in production from approximately 1929-1933.  It is often referred to as "Depression Glass", and is still quite collectible today.
If you are interested in learning more about current availability and pricing of the Jeannette Glass pieces, please click the following sponsored link for available Cube items on eBay.
Listed below are a few other companies that produced similar patterns:
American Lady Love – Home Interiors & Gifts, Inc.
Early American Style (Opaque) – Hazel Atlas
Katherine Pattern – Mosser Glass Company
American Pattern (a few select pieces from original Fostoria moulds) – produced by Fenton Glass Company
In the end, there is only one Fostoria American.  Nothing else compares, and I say that with conviction.  As good as the reproductions and look-alikes can be (and there are some of exceptional quality), a Fostoria piece will stand alone.  As collectors, it is important to realize the difference between an original piece of Fostoria American and those made by another company in a similar pattern.
If you decide to make a purchase through any of the affiliate book links above, Amazon will pay me a small commission for it. These commissions assist in keeping the website running, and allow me to continue with my research. I appreciate your support; thank you!