Item Number:  #PB-01
Height:  6"
Production Dates:  1979-1980
Put simply, the Fostoria American Spun Punch Bowl is different.  There were two 14″ punch bowls produced in the American line, and the spun version was made from 1979-1980.  I believe it was an experiment that ended in unsuccessful results for Fostoria Glass; therefore, it was produced in very limited quantities and was never officially presented in their catalogs.
When compared to other punch bowls in the line, the Spun Punch Bowl looks more like an enormous bowl.  The design is completely different, and this is because it was made by a "spinning" process.  The Spun Punch Bowl is shorter than it's sibling, the 14″ Punch Bowl.  Due to the spinning process, this is a piece that will not have any mould seams.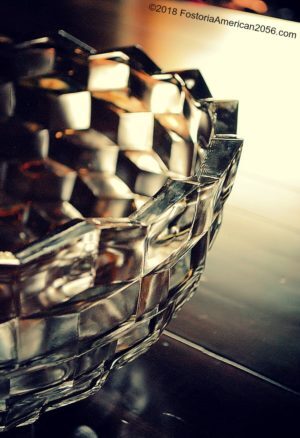 Unfortunately, the production of spun punch bowls resulted in an undesirable outcome – some pieces being very thick, while others were very thin.  In the end, the Spun Punch Bowl had a short life.  Being sold primarily in select outlet stores, it is the rarest punch bowl in the American line.
When shopping for a Spun Punch Bowl, pay close attention to the thickness of the glass – especially at the top edge.  You should seek one that is uniform in thickness, avoiding any lopsided or uneven specimens.
Due to the thickness and size variations of each punch bowl produced, I will refrain from making a blanket statement of what the dimensions are for all pieces.  I will advise; however, what the measurements are for the piece in my own personal collection.  The top opening is 14″ in diameter, and it is approximately 6″ high.  It has a holding capacity of approximately 2 gallons.
If you are interested in learning more about current availability and pricing for similar punch bowls, please click the following sponsored link for available Punch Bowls on eBay.