Item Number:  #630
Diameter:  10″
Production Dates:  1916-1982
The Fostoria American 10″ Round Salver is a thing of beauty.  Most people simply refer to it as a Cake Plate; however, Fostoria Glass Company called it their 10-in. Round Salver.  Fostoria also made a Square Salver; however, it is the round version that had a longer production life and is usually easier to find.  Both versions are equally gorgeous.
This piece of Fostoria glass is heavy and substantial.  Indeed, it is no light-weight and weighs in at 5 lbs.  It is about 10″ in diameter, with an approximate height of 7¼". Made for many years, it's production ended in the early 1980's.  Afterwards, Fostoria produced a new Cake Stand – which was smaller and less expensive.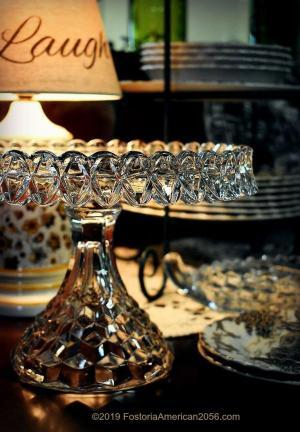 Glass cake salvers and plates with pedestal stands were made by Fostoria and other American glass makers in the middle of the 20th century.  Because of the manufacturing process, the glass pedestals often had shallow wells at the point where they were attached to the plates. These depressions are sometimes referred to as rum or brandy wells.  While I could not find any Fostoria catalog that referenced these indentations as any type of well or spill, quite a few collectors and glass enthusiasts still refer to them as such.
Many families, and their ancestors, would pour liqueur (brandy, rum, etc.) on top of the cake and use the wells as a means to catch any excess that would soak through to the bottom of the plate.  In times when plastic wrap was still not invented, liqueur was often used to help keep the cake moist and flavorful. Ingenious, I dare say.
Fostoria made several different pieces that could be used for serving cake – from trays with glass handles to those with metal handles.  There is even a "Tid Bit Set" that is most perfect for serving pre-cut pieces of cake. Even though the official names of the pieces might not have had "cake" in them, their excellent design offers you a variety of cake-serving options.
However you slice it – the Fostoria American Round Salver is still one of the most beautiful cake trays that has ever been produced, bar none.
If you are interested in purchasing this piece, please click the following sponsored link for available Round Cake Salvers on eBay.