Item Number:  #631
Width:  10″
Production Dates:  1924-1982
The Fostoria American Square Salver is a very impressive piece of glass. While most people today call this piece a "Cake Stand", Fostoria called it a "Salver" – which simply means a tray that was especially made for serving food or beverages.  Fostoria produced two Salvers – the square one you see pictured here, and the beautiful Round Salver.  Other cake stands and/or servers were also made.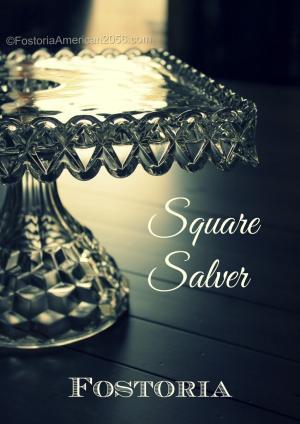 The Square Salver is approximately 10″ in width, with a height of about 7¼". When the two Salvers were produced, Fostoria Glass Company put a higher price tag on the Square Salver. Most of the time, but not always, it is more expensive to buy in today's market than the Round Salver. The Round Salver was introduced first, around 1916.  A few years later, the Square Salver was introduced.  Both were kept in the production line until approximately 1982.
Like the Round Salver, the oldest of pieces have their tops and bottoms attached with molten glass. Later versions had tops and bottoms that were glued together – which can come apart.  When, and if this happens, the two separated pieces could be mistakenly perceived as two entirely different pieces in the American pattern.  In years past, some people have even used the bottom piece as a wig or hat stand.  I would recommend using the services of a glass expert when you decide to put the two pieces back together again.
If you are interested in purchasing similar Salvers, please click the following sponsored link for available Square Cake Salvers on eBay.