Item Number:  #362P
Height:  8⅞″
Production Dates:  1933-1944*
*This specific glass item was produced sporadically from 1915-1970 under different names.  As a Pretzel Jar & Cover, its production dates are from 1933-1944.
The glass item for the Pretzel Jar & Cover is also known as the Cracker Jar & Cover, and the Cookie Jar & Cover.  When this piece of glass was first introduced into the American 2056 line, it was called the Cracker Jar & Cover.  Later in years, circa 1933, it was reintroduced as the Pretzel Jar & Cover.  It remained so until 1944, when this item was discontinued.  It would reappear later, around 1957, as a Cookie Jar & Cover.
I actually like to use this item as a pretzel jar, more so than a cookie and/or cracker jar.  Back in the day, it was quite popular to have a container of pretzels sitting on a cocktail or beverage bar.  Today, if you're lucky enough, you might still see this custom being practiced.   This tradition was so popular that Fostoria Glass even classified the Pretzel Jar & Cover as a "Liquor Item" in their official catalogs and price lists.  It was often seen with Decanter Sets, Footed Cocktails, and other assorted beverage items.
These jars (Pretzel/Cracker/Cookie) can vary by about ¼" in height, and most of the time that can be attributed to the size of the clear band of glass seen at the top of the jar.  The jar opening has a diameter of approximately 5¾", with a smooth (non-serrated) rim.  Many of the bottom pieces of the Pretzel Jar (aka Cookie/Cracker) were sold to other companies that fitted them with wooden tops and other accessories to be sold as cigar and Tobacco Humidors.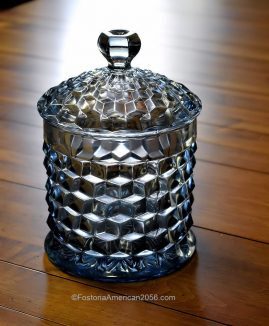 After the mid-to-late 1980's, the mould for this piece was in the hands of different glass companies – Dalzell Viking Glass, etc.  Since the Fostoria Glass factory had already closed down, Dalzell Viking was contracted to produce a variety of American pieces from original FA moulds.  This Pretzel Jar & Cover was one such piece; however, when it was reintroduced and produced by Dalzell Viking – it was called a Cookie Jar & Cover.  Dalzell produced it in a Blue/Grey color (seen here) and a Cranberry/Pink color.  Other colors were made by L.E.Smith Glass Co.
If you are interested in purchasing similar items in the Fostoria American line, please click the following sponsored link for available Pretzel Jars on eBay.