Item Number:  #K-01
Height:  7¼"
Production Dates:  Contract piece; no dates available.  See details below for best estimation.
First and foremost, this item is a "contract" piece.  Fostoria Glass did not sell a Tobacco Humidor to the general public; therefore, it was not featured in Fostoria catalogs or magazines.  The glass portion of the Tobacco Humidor is the base to the Fostoria American Cookie Jar.  The bases were sold to other companies, who in turn, added wooden and/or moisturizing elements.  The end result was a Tobacco Humidor.
A humidor is any container designed to store cigars, cigarettes, or pipe tobacco at the ideal level of humidity – which is usually 68 to 75 percent.  Since these items were not actually sold by Fostoria Glass, records and production dates are not available.  The Aztec Clay Moistener was patented in the mid-1920's; however, this does not mean that this is the time period that these items were produced and sold.  Even though production dates are missing on contract pieces, we can still narrow down the time period to a certain degree.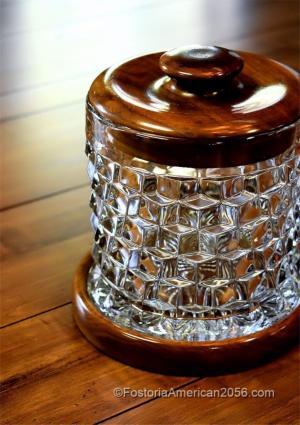 The Aztec Clay Moistener Company, Inc. did not come into existence until December 30, 1962, the day they filed in New York as a domestic business.  Many of the clay moisteners were contained in metal lids, which is often imprinted with the "Aztec Clay Moistener Company, Inc." name.  Based with this knowledge, and the date that this company first went into business, we know that some of the Tobacco Humidors did not exist until after 12/30/62 – regardless of the earlier patent date.  The patent date does not have anything to do with when these items were actually sold to the public. The last year Fostoria Glass produced the Cookie Jars was 1970.  Therefore, I think there is a good possibility that the Tobacco Humidor in this post was probably produced somewhere between 1963-1970.
Several of the Tobacco Humidors you see with the Fostoria American cookie jar bottoms had a metal container attached to their wooden top, which contained the clay moistener.  Humidity was often achieved by adding water – preferably distilled.  All humidors needed an airtight seal or cover.  A couple of variations for the Tobacco Humidor can be seen in regards to the woodwork – some offering just a wooden base and cover – while others also included built-in pipe stands.
Smaller "Cigar" Humidors can also be found, which showcased a different glass bottom.  These items were made with a couple different variations to the lid, which were mainly produced in metal.  The smaller Cigar Humidors, like the Tobacco Humidors, were also considered contract pieces.
If you are interested in purchasing similar Fostoria American items, please click the following sponsored link for available Tobacco Humidors on eBay.