Item Number:  #487
Height:  3¾"
Production Dates:  1935-1965
I seem to like quite a few of the Covered Containers in the American line, and the Mustard piece is no exception.  If intact, the Mustard dish should have a total of three pieces – the Mustard dish, a Cover, and a Spoon.  The authentic Fostoria Spoon is glass, not metal.  The Mustard has an approximate height of 3¾" (from the bottom to the top of the Cover).
The Mustard dish is not considered a rare piece, and you can still find it fairly easily.  It was produced for about thirty years, circa 1935 – 1965.  That being said, what is more difficult is finding all three pieces together.  Many times you will find the Mustard and Cover, or just the Mustard by itself.  It is even possible to find the Mustard and Cover, and a replacement spoon made out of metal or silver.  While finding the Mustard, the Cover, and the authentic glass Fostoria Spoon all together is certainly possible; just realize that when you do, it is a more difficult and nicer find.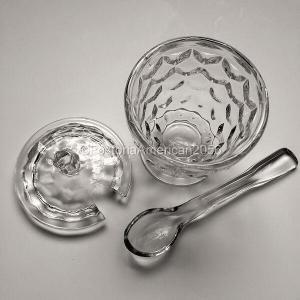 Here is a picture of all three elements – the Mustard, the Cover, and the Spoon. Notice that the Cover has a notch in it, just big enough for the glass Spoon to sit in the Mustard dish comfortably.
If you are interested in purchasing this set, please click the following sponsored link for available Mustard dishes on eBay.