Item Number:  SS-09
Height:  2"
Production Dates:  1938-1947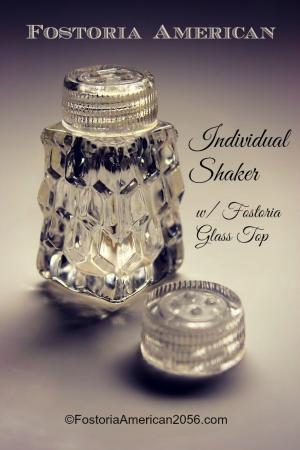 There were several different types of Salt and Pepper Shakers made in the Fostoria American line.  Not only were the designs different, but the tops and sizes were as well.  The piece you see here is the "Individual Shaker, Square".  It is one of the smaller Shakers, with a Fostoria Glass Top (F.G.T.)  The Individual Shaker is between 1⅞" – 2″ high, and sits on a square bottom.
The Individual Shakers are petite in size, as their purpose was to serve salt to individuals – not the entire table.  Hence, these smaller Shakers were usually placed at each place setting on the table.  Fostoria also made larger Shakers, such as the Shaker, F.G.T. – which would be the perfect choice if you needed a bigger Salt and Pepper Shaker for the entire table.
Fostoria Glass also offered a 3-Piece Individual Shaker Set, which included an Individual Shaker Tray and two of the Individual Shakers with glass tops. This Set was also available with Individual Shakers that had silver tops.
Over the years I have found that it is still relatively easy to find these Shakers; however, finding them with the glass tops in good condition is a bit more difficult.  Many times the glass tops will be cracked, broken or in ill repair.  One has to be careful when dealing with glass tops, because too much pressure will eventually crack or break the glass.
If you are interested in purchasing similar Shakers, please click the following sponsored link for available Salt and Pepper Shakers on eBay.