Item Number:  601
Height:  7″
Production Dates:  1917-1958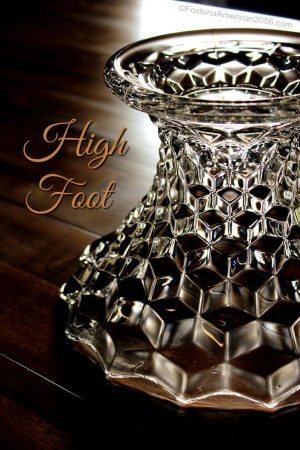 The 7" Flared Vase (High Foot) is a very intriguing piece in the Fostoria American line.  It is large, with a solid base, and glistens from head to toe! This item is unique in that it has dual purposes; hence, it is known by two different names – a Flared Vase, and a High Foot.  If you turn the Vase upside down, it is then the "High Foot" – a stand used for the Fostoria American 14″ Punch Bowl.
Interestingly enough, there are published books on Fostoria American that give conflicting dates of production on this piece.  I can say with 100% confidence that one of the books is incorrect with its published 1949 production ending date, as original Fostoria Glass catalogs validate the fact that it was still being produced in the 1950's.  The Flared Vase/High Foot was no longer being made in 1960.  The only Foot being produced at that time was the "Low Foot".
The opening of the Flared Vase (High Foot) is very large, with a width of about 9¾".  The base is approximately 6¼" in diameter, and it is about 7″ in height.  The vase has large proportions; therefore, it has a different range of cube sizes throughout its design.  The larger scaled cubes are noticed near the top (where it is larger) and then as the Vase tapers in size – so does the size of the cubes.  The reverse would be true if you were using it as a High Foot for a Punch Bowl.
Since this particular piece was cut from the production line a long time ago, there are not as many of them in the aftermarket. You can still find them; however, they are slightly harder to locate.  Keep in mind that if you are looking for this piece, you should also search for the term "Flared Vase" and/or "High Foot" for a Punch Bowl – as sellers could have it listed as either, or both.  Please click the following affiliate link if you are interested in searching for available Flared Vases on eBay.