Item Number:  #C-02
Height:  7″
Production Dates:  1924-1944
When the first Candle in the American line was nearing the end of its production life, Fostoria Glass introduced this 7″ Candlestick.  It is the second candlestick to be introduced in the American pattern – circa 1924.  It is also known as the "Square Step" Candlestick, because of its unique shape.  It was produced at the Fostoria glass factory for approximately twenty years.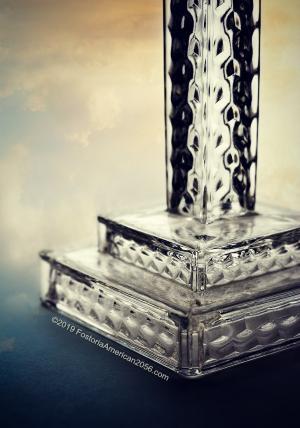 It is important to note; however, that the 7″ Candlestick was later manufactured by Dalzell Viking Glass – sold under the Fostoria American label.  These newer pieces were produced in clear crystal and in a small variety of colors – such as Ruby, Cranberry (Pink), Green, etc.  The colored pieces are hard to find, and in limited quantity.
The Candlestick is about 7″ tall, with a 3⅜" square base.  The bottom design is unique, bearing a two-step platform – resting on a solid square base.  The American pattern only produced two candlesticks with a square base, and this is one of them.  The top sconce is also square, resulting in a beautifully angular design.
If you would like to learn more about pricing and availability for similar items, please click the following sponsored link for available Candlesticks on eBay.