Item Number:  #C-01
Height:  7¼"
Production Dates:  1916-1925
When it comes to candlesticks, this one is the reigning monarch.  It deserves this recognition simply because it was the first candlestick ever produced in the American line.  Being the first-born, this item was simply named "Candle".  No further description was necessary – because at the time, this was the only candlestick available.  Some folks today refer to it as the Eiffel Tower Candlestick, based on its shape.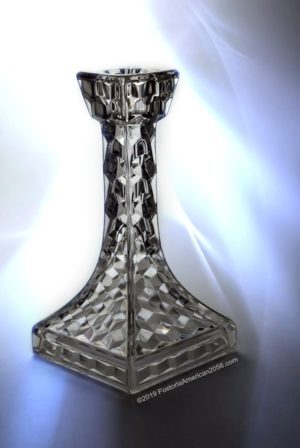 The Candle first debuted in 1916, and was produced for about nine years.  At one point during that time, it was part of the American Boudoir Set.  The set included this Candle and other various items – such as a Jug, Tumbler, Tray, etc.  You had the option of buying the Candle separately, or as part of the set.
There are a couple rare variations of this Candle that were used as electric lamps.  They are most difficult to find and were never officially cataloged by Fostoria Glass.
The Candle is approximately 7¼" in height, with a 3½" square base.  I own a couple of these candlesticks that are slightly twisted in the stem part.  It is common to find subtle differences from one piece to the other – especially with the older pieces.  Personally, that is one of the traits of hand-finished glass that I like – each one is unique!
If you would like to learn more about pricing and availability for similar items, please click the following sponsored link for available Candlesticks on eBay.