Item Number:  #P-09
Diameter:  8"
Production Dates:  circa 1925
There is much dispute regarding the production dates of this piece.  The dates vary greatly among book authors.  Published production dates were often copied from another book – without any authentic research by the author themselves.  Therefore, if the originating book was incorrect – many times the books that followed were also incorrect.  For now, until more complete records come forward, the actual production dates are an estimate.  It does appear they were only produced in the 1920's, and for a very short period of time.  I do know with certainty; however, that the bowls and plates were produced in 1925 – with records to substantiate that claim.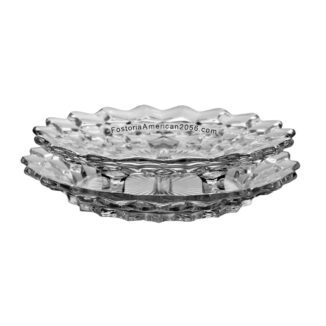 The Water Cress Plate was not available as a separate item and was sold with the Watercress Bowl.  The Water Cress Bowl is about 2½" high, and the Water Cress Plate is about 8″ in diameter.  The plate is about an 1″ high, with the sides caressing and following the lines of the bowl that sits above it.  The sole purpose of the Water Cress Plate is to catch the water as it drips down from the bowl.  This is perfection at its finest – in function, form, and design.
If you are interested in learning more about current inventory and pricing for similar pieces, please click the following sponsored link for available Watercress-related items on eBay.
  Please note that these type of pieces rarely show up online.  The plates are often misidentified, so be sure to look for the 8″ size, with upward-turning sides.