Item Number:  #B-04
Diameter:  7¼"
Production Dates:  circa 1925
The Water Cress Bowl is unique, mysterious, and often misunderstood.  Even though the "watercress" vegetable is spelled as one word, I write it as two words when referring to the American 2056 item – simply because that is how Fostoria Glass listed it in their price list.  It is unique because we don't see too many bowls like this, with a hole in the bottom of the dish for drainage.  It is mysterious because it was only made for a very short period of time; hence, there is not too much documentation on it.  It is misunderstood because previous book authors printed erroneous information about it, mainly stating that it was the exact same dish as the 3-Toed Bon Bon.
There is much dispute regarding the production dates of this piece.  The dates vary greatly among book authors.  Published production dates were often copied from another book – without any authentic research by the author themselves.  Therefore, if the originating book was incorrect – many times the books that followed were also incorrect. For now, until more complete records come forward, the actual production dates are an estimate.  It does appear the Water Cress Bowl and Plate were only produced in the 1920's, and for a very short period of time.  I do know with certainty; however, that both of these pieces were produced in 1925 – with records to substantiate that claim.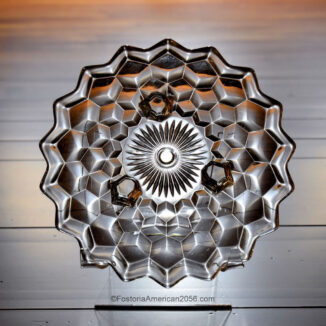 Due to what has been written about this piece in the past, many people think the Water Cress Bowl is the same dish as the 3-Toed Bon Bon.  I can't tell you how much confusion this caused me when I first started collecting the American pattern.  For years, I was looking for the wrong piece.  The Water Cress Bowl looks remarkably similar to the basic shape of the 3-Toed Bon Bon; however, there is one distinguishing factor that makes it different.  The Water Cress Bowl has a center drainage hole in it.  This makes perfect sense, as most vintage watercress bowls of this time period had drainage holes to catch the last drops of water from the vegetable greens.  Watercress bowls from other glass manufacturers usually were seen with a series of drainage holes; however, the Fostoria American bowl only had one – which was slightly larger.  In contrast to popular opinion, the 3-Toed Bon Bon is not the same piece as the Water Cress Bowl.  It could prove to be a costly mistake to think otherwise.
The Fostoria American Watercress Bowl was available as a separate item, and an actual Water Cress Plate was also available.  Interestingly enough, the Water Cress Plate was not available as a separate item and was only sold with the Watercress Bowl.  The Water Cress Bowl is about 2½" high, and the plate is about 8″ in diameter.
Uniquely beautiful, the Water Cress Bowl is used for draining the last drops of water from your watercress greens.  These type of dishes were very popular in the 1920's-1930's, and they can still be used today with a little creative vision.  The good news of today is that watercress has recently seen a resurgence in popularity as a superfood!  Even if you don't eat watercress, most of us delight in serving other leafy greens and an assortment of delicious and colorful fruits.  When entertaining guests, I love to use my Water Cress Bowl to serve berries.  The fruit just glistens, making for a beautiful presentation.
If you are interested in learning more about current inventory and pricing for similar pieces, please click the following sponsored link for available Watercress Bowls on eBay.
These type of pieces are rarely offered online; however, anything is possible.  Very often the 3-Toed Bon Bon will show up as the Water Cress Bowl, which it is not.