Item Number:  #CC-04
Diameter:  5¾"
Production Dates:  1915-1944
The Fostoria Two Handled Preserve and Cover is a beautiful and unique piece, bearing a handle on each side. It is rather unique-looking, and therein lies its charm, as it was designed and first produced over a hundred years ago.  The Two Handled Preserve and Cover is one of the pioneering pieces in the American #2056 line, and made its initial debut in the Fostoria American 1915 Catalog Supplement.
While its original purpose was to serve preserves and such, there are many other ways to utilize this dish today.  I still use it for its original purpose; however, I have also used it as a candy dish, relish dish, for serving after-dinner mints … and the list goes on and on.  If you use your imagination, you will soon find that there are a variety of ways to use this versatile piece.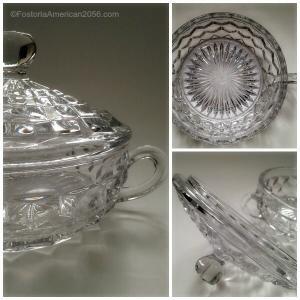 The Two Handled Preserve and Cover has a diameter of approximately 5½" –  5¾" (not counting the handles) and a height between 4″ – 4½" (including the cover).  The bowl portion has a beautiful starburst design in the bottom, and the Cover has smooth edges (not serrated) on the bottom rim.  I find the two pieces make a good connection.   Without any serrated edges to match up when putting the Cover back on the dish, the chances of damage are usually reduced – especially since both pieces have smooth edges.
The Two Handled Preserve and Cover was made for less than thirty years; therefore, they are not as plentiful in the open market today.  They are not considered rare, nor are they considered a common find.  If you are interested in learning more about current availability for this piece, please click the following affiliate link for available Two Handled Preserve and Covers on eBay.