Item Number:  #P-05
Diameter:  20″
Production Dates:  1932-1943
Fostoria Glass produced several Torte Plates – all in various sizes.  Unlike the Oval Torte Plates, the regular Torte Plates have a round or circular shape.  Fostoria made four different-sized American Torte Plates over the years – 14″, 18″, 20″, and 24″ (the largest size is considered the rarest, by far).  The next rarest is the 20″ Torte Plate, and I find it to be quite fascinating.
In general, dimensions on Torte Plates vary – no matter what size you might have.  That is true for any handmade item; however, it is especially true on the Torte Plates.  For example, the Torte Plate that is pictured in this post is actually 21″ in diameter; however, it is classified as the 20″ Torte Plate.  This measurement discrepancy can be confusing; therefore, the best way to judge the size of any Torte Plate is to take two measurements – that of the total plate circumference, and then the measurement of the diameter of the foot.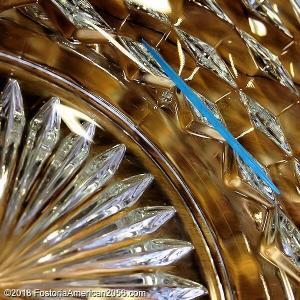 Luckily, the 20″ Torte Plate is an easy plate to identify.  Unlike the other Torte Plates, this particular piece has a well in the center.  In the picture displayed here, I have a blue toothpick resting on top of the plate.  The toothpick is actually sitting about ¼" higher than the well below, which is located in the plate's center.  The foot diameter of the 20″ Torte Plate is approximately 5½", with a starburst (or rayed) center.
The 20″ Torte Plate was born in the early 1930's, being produced through 1943.  It came into existence to replace the larger 24″ Torte Plate, which had to be a very difficult and expensive piece to make if only for it's mammoth size.  The 24″ Torte was produced for just a few years, clearing the way for the smaller 20″ Torte Plate.
Another characteristic of this Torte Plate that I find amazing is the size of the cubes.  They are enormous.  At the outermost edges, they are 3″ wide … and in the second row below that, they are 2½" wide!  Typically, because of its age and fire polishing, the glass color is usually superb – with great clarity.  It is a beautiful and stunning piece of glass.
If you are interested in learning more about current availability and pricing for this piece, please click the following sponsored link for available Torte Plates on eBay.
  The two largest Torte Plates rarely come up in the eBay search results; however, every now and again you will find one (like I did for the 20″ size).