Item Number:  429
Height:  3⅝"
Production Dates:  1940-1958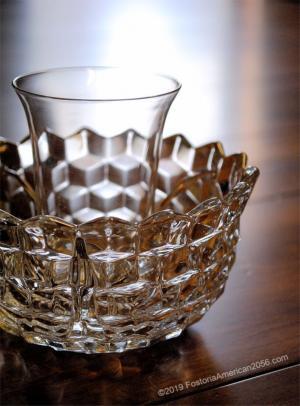 The Fostoria Glass Company produced three different types of Liners that could be used with the 2056 Ice Dish – the Fruit Cocktail Liner, the Crab Meat Liner, and the Tomato Juice Liner.  These inserts (unlike the actual Ice Dish) are "blown" glassware; therefore, they are lighter, thinner, and more fragile than the pressed American pieces.
The Tomato Juice Liner has a holding capacity of approximately 5 ounces.  It is about 3⅝" in height and fits perfectly inside the chamber of the American Ice Dish.  Ice is then placed between the Liner and the Ice Dish, keeping the tomato juice chilled throughout your meal.
If you would like to learn more about pricing and availability, please click the following sponsored link for available Tomato Juice Liners on eBay.