Item Number:  #SUS-01
Dimensions:  4¾" H
Production Dates:  1915-1925
The height of the item is approximately 4¾", with the top on.  The inside diameter of the neck usually runs between 1⅛"-1¼", with a 1¾" outside diameter.  While it might not be obvious at first, the glass neck with have a small bevel of ground glass – located on the inside edge of the neck.  The bottom of the glass container often shows a pontil mark or scar, commonly seen in older glass.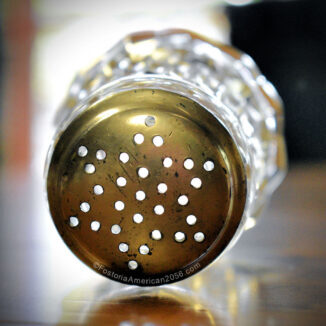 Fostoria Glass described this item as the Sugar Shaker; however, upon its debut in the American pattern, it was also known as the "Restaurant Shaker".  This item has a heavy metal top (H.N.T.), which makes it very easy to distinguish from the newer Cheese/Sugar Shaker.  When this item was first offered, it was available with a pepper top as well.  The sugar top will have thirty-one (31) holes, in the shape of the Star of David.  In contrast, the pepper top will have 15 larger holes.
The Sugar Shakers can also be found in a variety of E.P.N.S. lids and collars.  During the early years of production, these shakers were sent to metal working companies that mounted them with silver and nickel tops.  The trade business of silver-fitting and mounting was exclusively done in the United Kingdom, which is the reason E.P.N.S. Sugar Shakers are commonly referred to as the "English-Style Sugar Shakers".  Only the regular Sugar Shakers (H.N.T.) were featured in the Fostoria American catalogs.
If you are interested in learning more about current availability and pricing for similar items, please click the following sponsored link for Cheese/Sugar Shakers on eBay.