Item Number:  109
Approximate Size:  2⅞" Sq.
Production Dates:  1936-1973
The Fostoria American Square Ash Tray is one of the smaller smoking accessories in the 2056 line.  It is approximately 2⅞" square and has two indentations to hold cigarettes.  Other American ash trays were made; however, the Square Ash Tray and the Topper Ash Tray are the smallest of the group.  The Square Ash Tray was introduced in the 1930's and was produced through 1973.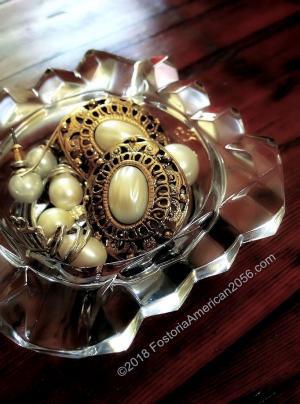 One of the sets that Fostoria sold in the American pattern was a 5-Piece Smoker Set.  This particular Square Ash Tray was part of that grouping; in fact, the set included four (4) of these ash trays and one Cigarette Box and Cover.  Smoking was a big part of the American culture back in the 1930's, which made smoker sets quite popular.
In today's world, many people don't smoke.  Even so, that does not mean we need to throw out all smoking accessories – especially pretty ones like these American Square Ash Trays!  With their ruffled edges, they are very attractive.  They sparkle and gleam just like any other American piece.  I use mine quite often – in a variety of ways.  From serving after-dinner mints to storing vintage jewelry, the Square Ash Trays will provide you with many years of happy service.
If you are interested in learning more about current availability and pricing for this piece, please click the following sponsored link for available Ash Trays on eBay.