Item Number:  #713
Top Diameter:  2⅛"
Production Dates:  1939-1958
The American 2056 line was the most popular (and expansive) pattern ever produced by Fostoria Glass.  The pattern debuted in 1915, and throughout the decades since, hundreds of different items were designed for a variety of lifestyles.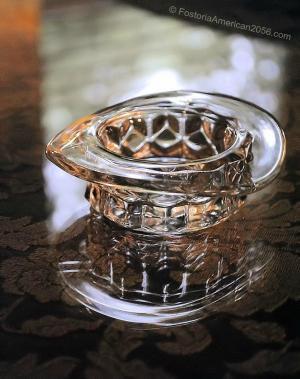 Back in the day, smoking was very popular – and Fostoria Glass produced smoking accessories to meet the demands of its consumers.  Even while many of us don't smoke today, one can still appreciate the craftsmanship and beauty of these items.  Use them for alternate purposes, and enjoy them … for a complete Fostoria American collection would not be complete without them.
The Topper Ash Tray is the smallest of all the Toppers.  Other Toppers were also used as smoking accessories; however, the only one used as an ash tray was this smaller Topper.  Interestingly, it does not have a notched area in the rim to hold a cigarette or cigar.
This piece was also produced in white milk glass.  The milk glass variations had a shorter production run, so they are more difficult to find. If you are interested in learning more about current availability and pricing for similar items, please click the following sponsored link for available Topper Ash Trays on eBay.