The Fostoria American Shaker, "W" Top (glass disc with a heavy nickle band) is a special find.  This particular type of Shaker is not common.  I rarely see them online, or at estate auctions and antique stores.  They are some of the oldest pieces you will ever find in the American pattern and were a pioneering piece in the Fostoria American debut catalog of 1915.
These Fostoria Shakers are quite substantial, both in weight and appearance. As with similar vintage items, the finish on the Tops may become worn, flaky, or pitted over the years.  Since salt is highly corrosive, it is always advised to empty the Shakers when they are not in use.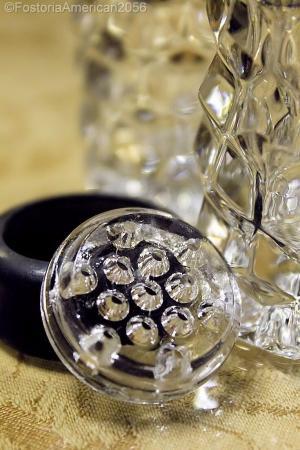 These Shakers are large, and have a straight-sided shape.  They have an approximate height between 3 – 3¼ inches (with the Top attached).  The Top consists of two pieces – the band, and the glass disc.  The glass inserts are delicate, and need to be handled with care.  The early produced glass discs should have 13 holes. Later variations will have 7 holes.
If you are interested in purchasing similar Shakers, please click the following affiliate link for available Salt and Pepper Shakers on eBay.