Description:  Rose Bowl – 3½"
Item Number:  #146
Height:  3½"
Production Dates:  1916-1944 … 1946-1958
The Fostoria American pattern produced Rose Bowls in two different sizes – a 3½" version, and a larger 5″ Rose Bowl.  The one pictured here is the 3½" size.
This particular Rose Bowl has a neck opening of about 1¾". There is a band of approximately 1″ of clear glass surrounding the neck.  The individual cubes on this Rose Bowl appear larger than most other pieces in the American line.  The base of this Rose Bowl is approximately 2½" wide, with a pointed ray design on the bottom.
Of the two Rose Bowls produced, it is this smaller version that debuted first.  The only year it does not appear to have been made during its production year range is 1945.  Only the 5″ Rose Bowl is noted in the catalog for that year.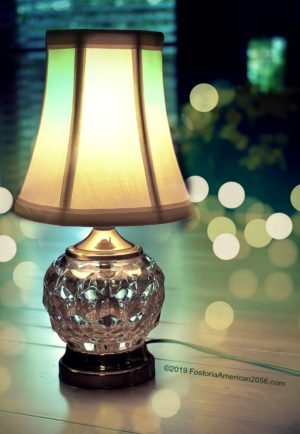 Fostoria Glass sold Rose Bowls (and other select pieces) to lamp companies – which in turn, would drill and modify the items to be sold as light fixtures.  The lamps that were done professionally are quite beautiful.  Private individuals have also attempted to turn Rose Bowls into lamps.  Like any other home project, some turned out beautifully – while others suffered greatly.
For pricing on Rose Bowls, please click the following sponsored link for available Rose Bowls on eBay.