Item Number:  #13
Height:  3½″
Production Dates:  1924-1982
This is the Fostoria American Regular Low Sherbet dish.  Fostoria made several sherbet dishes, ranging from a flared design to a "regular" design. One can distinguish between the two because the flared version has flared sides, whereas the Regular Sherbet does not.
The sherbet dishes also came in different heights, from low foots to high foots.  Some pieces were offered in a hexagonal foot.  The Regular Low Foot Sherbet only came with a round foot, holds approximately 5 ounces, and is about 3½" tall.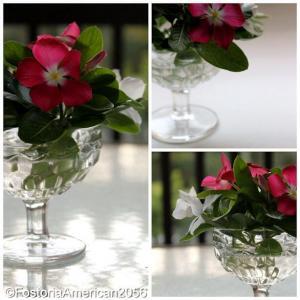 An important element to keep in mind when looking for the "real" Fostoria dish is that similar sherbet dishes were made in the Whitehall pattern.  The Whitehall Sherbet also holds about 5 ounces, so they are very similar in size and appearance.  The Look-Alike dish not only came in Crystal, but also in other colors – such as Green, Gold, etc.
If you should find that your Sherbet dish has seen better days, don't despair. Even if it has a small blemish, you can still re-purpose them if the flaw is not that big or noticeable.  I also use the Sherbet dishes as flower bud bases, which is a great re-use if the rim of the dish has a small flaw.  The flowers cover any blemishes, and it makes for a lovely presentation.
If you are interested in learning more about the current availability and pricing of similar dessert dishes, please click the following sponsored link for available Regular Low Sherbets on eBay.