Item Number:  #560
Length:  12″
Production Dates:  1933-1973
In addition to a variety of dinnerware and accessories, Fostoria Glass also produced Tortes, Trays, and Platters in the American pattern.  The Oval Platter is one such example.  The Oval Platter was available in two sizes – a smaller 10½" version, or the larger 12″ size. The picture in this post is that of the 12″ Oval Platter, which is 12″ in length and about 8½" in width.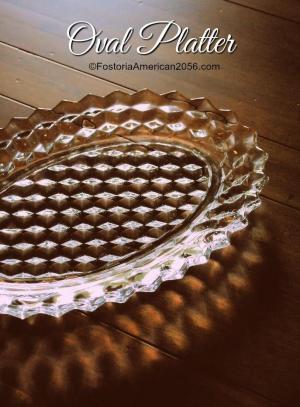 The Oval Platters should not be confused with the earlier Oval Ice Creams, even though they have the same shape.  They are two different pieces.  The exact dates the Oval Platters were produced is in dispute, as various published books on Fostoria American give conflicting dates.  In doing my own research, I believe that they were probably produced for about forty years – starting around 1933.  One book states that the Oval Platters were produced as early as 1916; however, I can find no collaborating evidence of this.  I do not see them listed in any catalog until 1933.   If someone has substantiating evidence of an earlier production date, please forward that information to me and I will update this post.  In the Fostoria Tableware 1944 – 1986 book by Milbra Long & Emily Seate, they also confirm the starting production date was 1933.
The Oval Platters are quite substantial in weight and function.  They are still relatively easy to find, even in today's times.  I seem to find more of them online than when visiting antique stores.  If a buyer saw them in person while treasure hunting, I have no doubt they would purchase them fairly quickly.
If you are interested in learning more about current availability and pricing for this piece, please click the following sponsored link for available Oval Platters on eBay.