Item Number:  #T-05
Length:  13½″
Production Dates:  1915-1925
The Oval Ice Cream Tray is one item in the American line that I find to be quite intriguing.  Depending on what book you read on Fostoria American, it can be referenced to as either a "Tray", "Platter", or simply the "Oval Ice Cream".  Interestingly enough, Fostoria's own 1915 Catalog Supplement displays a picture of it, entitled the "Oval Ice Cream".  However, in their corresponding price list for the same, it lists the piece as the "14 in. Ice Cream Tray".  With all the different names in the various published books, as well as the differences in the Fostoria Glass Supplement Catalog itself, it is easy to understand why it is known by different titles.  For me, personally, I will combine the original two names from Fostoria and call it the Oval Ice Cream Tray.
Regarding size, the Oval Ice Cream Tray can vary.  Some original Fostoria documents state the length as 13½" and 10″ in width, yet describe it as the 14″ Ice Cream Tray.  My own personal specimen is 13″ in length and 9½" in width.  You would be wise to expect some slight fluctuations in size when comparing one to another.  As in all handmade items, sizes can vary … but the main reason to expect slight size variations on this piece is because it was made from the 11½" Oval Garden mould.  Once released from the mould, the piece of glass was then flattened out to create the Oval Ice Cream Tray.  How big in size (or inches) the piece is would depend on how "flat" the glass craftsman made the piece during production.  Obviously, the more flat it is – the larger in size it will be.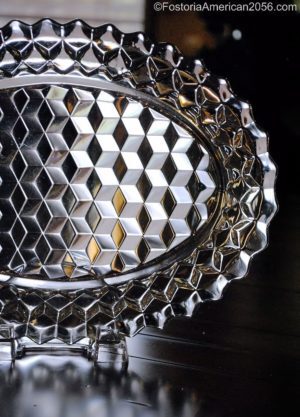 The Oval Ice Cream Tray is very similar in looks to the 12″ Oval Platter.  Since these two pieces are similar in dimensions – and the fact that we know size variations do occur – measuring might not be the best course of action to take in determining its true identity.  Regarding these particular pieces, the quickest and easiest way to distinguish between the Oval Ice Cream Tray and the 12″ Oval Platter is to count the number of points around the dish.  The 12″ Oval Platter will have thirty-two (32) points.  The Oval Ice Cream Tray will have thirty-six (36) points.
In summation, the Oval Ice Cream Tray is considered a rare piece in the American line.  It was first put into production in 1915 and was only made for about ten years.  It is a heavy piece of glass, and without a doubt, one of the prettiest items in the entire line.
If you are interested in learning more about current availability and pricing for this piece, please click the following sponsored link for available Ice Cream Trays/Platters on eBay.