Item Number:  #J-01
Holding Capacity:  ½ Gallon
Production Dates:  1915-1941 (estimated)
The ½ Gallon Ice Jug – without an Ice Lip – is probably the most confusing Jug in the American pattern.  It was born in 1915 as an "Ice Jug"; however, as the years went by, its catalog name changed to simply a "Jug".  It gets rather complicated when trying to track down definite production dates on this piece, as other items in the line were also called Jugs.  While holding capacities were listed, there were times when there were multiple Jugs listed with the same holding capacity (½ gallon).  Without yearly drawings or pictures of an item for comparison value, this accounts for the wide difference in production dates seen in published books by different sources.  With regards to my own research, I believe the last year this piece was produced was in 1941.  While I can't confirm that the ½ Gallon Ice Jug (without an Ice Lip) was produced for every year from 1915-1941, it does appear that it was produced for the majority of that time period.
Since all of the Fostoria American items were finished by hand, there will always be slight variances in size.  Based on my own evaluation of the ½ Gallon Ice Jug (w/o an Ice Lip), these are its approximate measurements:
Outside diameter from rim to rim – 6″
From bottom to top of lip – 7"
Bottom base (or foot) is 5⅝" in diameter
This jug is very substantial in size, and hefty in weight.  You would be well advised to carry this vessel with two hands, supporting it mainly from the bottom.  This is especially important when it is filled with liquid, as the weight increases substantially.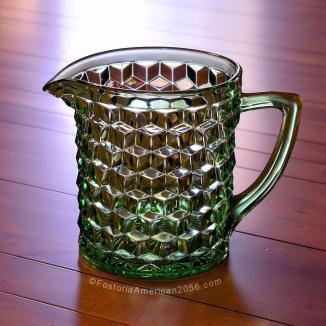 Of all the Jugs produced in the 2056 line, this is the only Jug that was offered in a green color. In 1925, for about a year or two, it was produced in a beautiful shade of green.  Tumblers and Ice Tea glasses were also available in this same color (along with a few other items).  When combined together, the Jug, Tumblers, and Ice Tea glasses made for a colorful beverage set.
If you are interested in purchasing similar Jugs and/or Pitchers in the American line, please click the following sponsored link for available Jugs on eBay.
  You will have a better chance of finding a clear crystal Jug on eBay, versus the green-colored variation.  The green Jug is rare, and obviously a more difficult find.