Item Number:  #T-08
Length:  5″
Production Dates:  1917-1943
(aka Oblong Tray)
The Fostoria American Oblong Pin Tray was originally designed to hold pins, or other small items.  It was first produced in 1917, and this was a time in our history when pins and buttons were a necessary item in one's wardrobe.  As the years went by, Fostoria Glass officially changed this item's name from the Oblong Pin Tray to the "5 in. Oblong Tray".
The Oblong Pin Tray is approximately 5″ in length, and about 2⅝" in width.  This piece was produced through 1943, known by the two names mentioned previously.  You can use this tray for a variety of purposes, even today.  In fact, this particular tray is often used in what some people refer to as a Pomade Set.  A Pomade Set consists of one Oblong Pin Tray and two of the 2″ Pomade and Covers.  The Pomades are square in shape and fit quite nicely on the tray, which makes for a lovely presentation.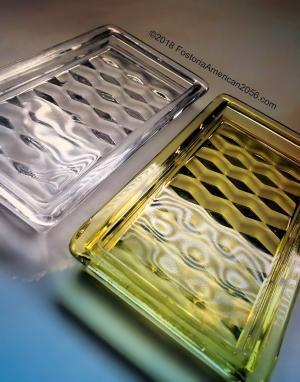 The Oblong Pin Tray was primarily produced in clear crystal.  During the mid-1920's; however, it was chosen to be one of a few items that was also produced in a variety of colors – Amber, Blue and Canary.  Of the three colors, Canary is the rarest – only being produced from approximately 1925-1926.  Blue and Amber pieces had a longer production life, but only by about one year.  The colored pieces were produced for a very short period of time.
Obviously, the colored trays are much more rare and valuable.  While the clear crystal version is not considered extremely rare – it should not be considered a plentiful item either.  I would rank it somewhere in the middle of the rarity scale, and a great find should you come across one.
Another interesting point about the Oblong Pin Tray is that Fostoria Glass Company considered it to be one of eight pieces that made up their 1925 Amber, Blue and/or Canary Boudoir Sets.  The eight individual items are listed below:
Bon Bon
Large Cigarette & Cover
Small Cigarette & Cover
Confection & Cover
Small Cologne
Square Puff & Cover
Oblong Pin Tray – 5″
Comb & Brush Tray – 10″
If you are interested in learning more about current availability and pricing for this piece, please click the following sponsored link for available Trays on eBay.
  You will probably have to sift through a variety of Trays in order to find one Oblong Pin Tray (if you should find any).  They do; however, come up on the market every now and again.