Item Number:  #433
Approximate Size:  6½" D – 4½" H
Production Dates:  1916-1958
This is the second Ice Tub produced in the American 2056 line.  A separate Ice Tub Plate was also available for purchase, often paired with the Ice Tub.  They were not sold as a set, even though they were often used and shown together.  Each piece was sold separately.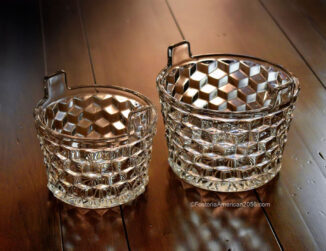 You will often see the Ice Tubs sold without the Plates, and this could be for a variety of reasons. Over the years, people might have thought the Ice Tub Plate was just another ordinary plate and separated it from the Ice Tub – or the Ice Tub was originally bought separately (without the Plate).
The American pattern produced two Ice Tubs of different sizes.  The larger one is featured on the right, and the smaller Ice Tub (with a 5⅝" diameter) is featured on the left.  If you are interested in learning more about current inventory and pricing for similar pieces, please click the following sponsored link for available Ice Tubs on eBay.