Item Number:  448
Height:  4¼" D – 4¼" H
Production Dates:  1915-1983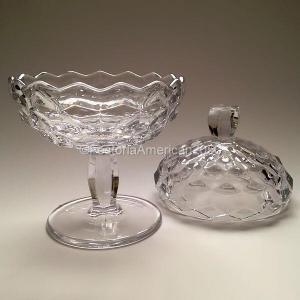 Most people don't realize that Fostoria Glass sold the Jelly dish two ways – with, or without a cover.  Often, when a collector finds the Jelly without a cover, they think that it is not complete – or that the cover got broke along the way.  Some consumers did not want a cover on their Jelly; therefore, this item was available with two options.  Fostoria Glass even designated two different item numbers for these pieces – #448 for the uncovered Jelly, and #447 for the Jelly and Cover.
The Jelly is about 4¼" in diameter.  It is one of the pioneering pieces in the line, debuting in the first Fostoria American 1915 Catalog Supplement. With a very long production life, it was still being manufactured right up until the Fostoria Glass factory closed.  In fact, the Jelly (without a cover) was one of the few pieces featured in the 1983 Fostoria catalog – allowing it to live one year longer than its lidded sibling.
Please click the sponsored link for available Jelly dishes on eBay.
  This is a beautiful piece of Fostoria American that you can buy quite inexpensively – even today.