Item Number:  #P-03
Diameter:  6″
Production Dates:  1915-1928
The Fostoria American Ice Tea Plate has the distinction of being one of the first items introduced in the American pattern back in 1915.  There was not a big supply of these plates produced; hence, they are not easy to locate. The Ice Tea Plates were sold as a separate item from the Ice Tea glasses.  When these two pieces are suited together, they make for a beautiful duo.
The Ice Tea Plates are approximately 6″ in diameter, and at first glance, look similar to the 6″ Bread and Butter Plates. Their similarity in size and shape has caused confusion between the two; however, there are differences.  The most prominent difference is that there is no visible ring around the center design of the Ice Tea Plate, as it has been totally ground off on the underside.  There is an obvious center ring on the Bread and Butter Plates.
In regards to the Ice Tea Plate and the Finger Bowl Plates, I can attest that the Ice Tea Plate does accommodate the Finger Bowl nicely.  It is widely accepted and published through other sources that the Ice Tea Plate is identical to the latter version of the Finger Bowl Plate, which has a serrated edge.  As of yet, I have not been able to verify through official Fostoria records if the American pattern ever implemented a second plate to be used with the Finger Bowls.  Only the original underplate is shown in catalogs thus far.  Regardless of whether the second version is fact or fiction, it does appear to be the original Ice Tea Plate.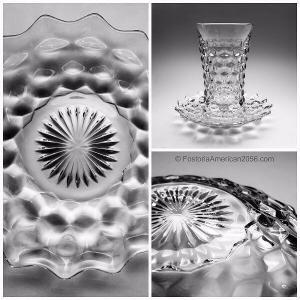 The inside curvature of the Ice Tea Plate is more pronounced, and the outer rim or edge of the plate is higher (about ¾" high) – allowing for items to sit securely on the plate without slippage.  The 1915 Catalog Supplement does show the Ice Tea glass being paired with the Ice Tea Plate, and the Finger Bowl being paired with the original smooth-edged version of the Finger Bowl Plate.
Please click the following sponsored link for available Plates on eBay.
  Bear in mind; however, that these type of plates are sometimes mistaken for the Bread and Butter Plates, etc.  Many people do not know their correct name, so you will need to search for all types of plates in case they are misclassified.