Item Number:  88
Height:  4¾″
Production Dates:  1934-1982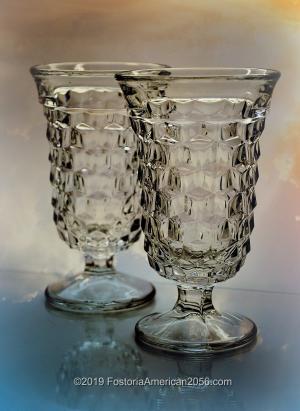 Many people classify this Fostoria American Footed Tumbler as a Goblet; however, that is not accurate. Fostoria made both Goblets and Tumblers, in addition to a variety of other stemware.  While this Tumbler's overall design is very similar to a Goblet, the difference can be found in the actual stem. Footed Tumblers feature a shorter stem, or they have no stem at all.
One of the things I like best about the clear crystal pieces is their versatility. For example, this 5 oz. Footed Tumbler will look great on any table setting – no matter the color or design.  This piece can be used to serve fruit juices, tea, soft drinks, and other chilled beverages.
The Footed Tumbler holds approximately 5 ounces and is about 4¾" in height.  It was an extremely popular item in the Fostoria American line, and was produced from 1934-1982.
If you are interested in purchasing similar items, please click the following sponsored link for available Tumblers on eBay.