Item Number:  307
Diameter:  12″
Production Dates:  1938-1983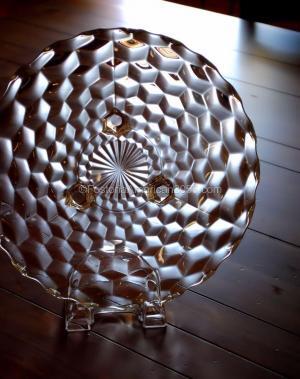 This is the Fostoria American Footed Cake Plate. It is approximately 12 inches across. The Footed Cake Plate (3-Toed) had a long production life and it is still fairly easy to locate in today's aftermarket.  It was produced from approximately 1938-1983.
Be informed, for there is also a Look-Alike Cake Plate in the American Whitehall pattern. Many people selling the Look-Alike item often classify it as Fostoria American, when in truth – it is not.  The differences between the two is noted and pictured in my premium Whitehall PDF Report.  The American Whitehall piece is called a "3-Toed Cake Plate".
The Footed Cake Plate is very versatile when it comes to serving your guests different food items.  You can serve many desserts other than cake on this plate – from appetizers to cupcakes and more.  The possibilities are endless.
If you are interested in purchasing this Fostoria American item, please click the following sponsored link for available Cake Plates on eBay.