Whitehall and American Whitehall PDF Report
Learn the difference between Whitehall and Fostoria American.  This digital PDF file consists of sixty-seven (67) pages, one of which is the Cover Page and an Index.  The report includes photos and details on items produced from the Whitehall lines, and when appropriate … Fostoria American items for comparison value.  It also has information on other Look-Alike pieces from HOMCO, Confections, etc.
Price:  $24.00


Julie:  Just wanted you to know what a wonderful work your book is.  I'm a new collector and was having a lot of trouble separating Whitehall from FA.  After I study your well-done book a few more times, I don't think I'll have any trouble at all.  Thanks.
The items that are featured in this report are the following: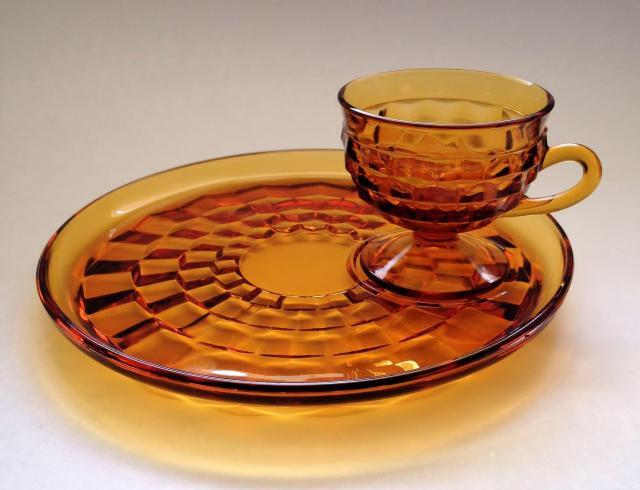 2-Handled Sugar & Lid
2-Part Oval Relish Dish
3 Pc. Salad Set
3-Toed Bonbon
3-Toed Cake Plate
3-Toed Center Bowl
AW Peach Collection
Buffet Server
Butter/Cover Set
Cake Dome Sets
Candy and Cover
Carnival Candy Box
Confections Candy Boxes
Coolers
Cream Pitcher
Cups
Design Bowl
Dessert Nappy
FA Chamber Candleholder
Footed Compote
HOMCO Logo
HOMCO Nite Light
Individual Salad Bowl
Juice and Parfait
LL Candleholder
LL Candlestick
LL Compote
LL Heart Candy Box
On-The-Rocks
Oval Bowl
Peg Votive
Pitchers/Jugs
Punch Bowl
Ruby Whitehall
Salad/Fruit Bowl
Salad & Snack Plates
Salt and Pepper Shakers
Salt Shaker Lid
Sandwich Tray
Sherbet
Straight & Flared Rims
Straight-Sided Drinkware
Sugar Lids
Taper/Pillar Holders
Vases
Votive/Chub Holders
Whitehall Pitcher/Jugs
Whitehall Sets
The report will provide you with information on how to tell the difference between a Whitehall and/or American Whitehall item and that of Fostoria American.  Noticeable differences can vary from one piece to the other.  One should not apply a blanket rule for all products, as that theory will eventually fail.  My sincere hope is that you find the information extremely helpful.
This report is in English only and is a downloadable digital PDF file (non-editable) which will be available to you once your payment has been confirmed. You will then be sent an email letting you know that your file is ready for download.  You will receive a digital PDF file for personal use only.
You will need a PDF Reader, like Adobe Acrobat Reader, to open the file. If you do not have one, you can download Adobe Acrobat Reader for free at http://www.adobe.com/products/reader.
Refunds/Exchanges:  This is a DIGITAL PRODUCT, downloadable upon purchase.  No physical product will be shipped to you.  Since digital reports cannot be returned, there are no refunds or exchanges.  Once I send you the file, the sale is final.  Thank you.