This is the Fostoria American Footed Bowl – 10″.  This particular bowl can also be used as a salad bowl.  It fits nicely on the 14″ Torte Plate that was used in Fostoria's 3-piece Salad Set.
Fostoria produced many bowls in the American pattern.  Some of the pieces were also called "nappy" dishes.  A nappy is usually a round dish, with a flat bottom and sloping sides, and used primarily for serving food.  A variety of Fostoria's bowls and/or nappies were either footed, shallow, high, deep, flared, handled, etc.  As I mentioned, many Fostoria bowls were made – and they all had different names and/or usages.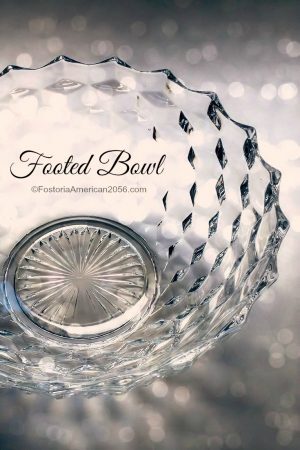 American Whitehall also made a similar bowl, which they called a "Salad/Fruit Bowl". They did not produce nearly as many bowl designs as Fostoria did; however, their Salad/Fruit Bowl is strikingly similar to the Fostoria 10-Inch Footed Bowl.
If you are interested in purchasing a Fostoria American bowl, please click the following sponsored link for available Bowls on eBay.