Item Number:  #584
Approximate Size:  5¼" D – 2½" H
Production Dates:  1980-1982
The American pattern offered the Divided Party Server at a time when the Fostoria Glass Company was starting to wind down.  This was one of the very last items introduced into the 2056 line, and was only in production for a few years before the Fostoria Glass Company was sold to Lancaster Colony Corporation.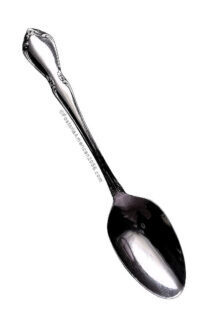 The Divided Party Server looks very similar to the 2-Part Mayonnaise.  The main difference between the two is their size, with the Party Server being the smallest.  It is about an inch smaller in diameter than the 2-Part Mayonnaise.  Another important difference between the two items is that the Party Server came with two stainless spoons.  The original 2-Part Mayonnaise came with two glass ladles.  The back of the Party Server spoons are marked "Oneidacraft Deluxe Stainless".  They are approximately 5¼" in length.
If you are interested in learning more about current availability and pricing for similar items, please click the following sponsored link for Party Servers on eBay.