Item Number:  552-D
Diameter:  9½″
Production Dates:  1936-1982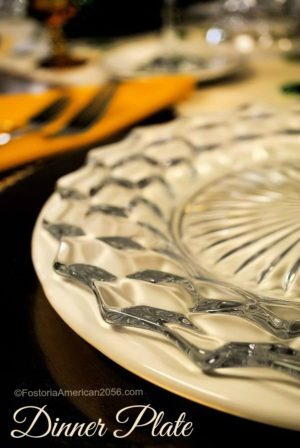 For a complete dinner service, you will need to include the Fostoria American Dinner Plate. Interestingly enough, the Dinner Plate was not one of the pioneering pieces in the American line. It was not produced until the 1930's; however, it stayed in production for many years afterward – until approximately 1982.  It was later reproduced by Lancaster Colony when they bought out Fostoria Glass Co.
The Fostoria American Dinner Plate is approximately 9½" and is quite beautiful, with a large center.  Different Salad Plates were also produced in the American pattern. One particular Salad Plate looks very similar to the Dinner Plate; however, it is slightly smaller in size (8½").  Both Plates have large centers, with a petal-like design.
Some people might find it surprising to learn that the Dinner Plates are very substantial – both in weight and durability.  Even when Fostoria Glass Company was sold, the quality was still very high for the reproduced Dinner Plates.  It is my opinion that one can never have too many of these plates in your china closet.  If you need service for eight, buy a few extra plates. Damage can, and does occur.  The plates can become scratched and dull from all the abuse of knives, forks … and even dishwashers.  The Dinner Plates should be hand washed, and never put in a dishwasher.
Luckily, you can still find them fairly easily in today's world.  If you are interested in learning more about current availability and pricing for this piece, please click the following sponsored link for available Dinner Plates on eBay.