Item Number:  #P-01
Length:  7½″
Production Dates:  1937-1944
The Crescent Salad Plate is a plate like no other.  Uniquely formed, it instantly captures your attention.  The American Salad Plates came in two formations – round, or crescent-shaped.  The Crescent Salad Plate is approximately 7½" in length, and about 4½" wide. The top serrated edges flair upward (not sideways), giving the plate a nice side margin to hold the contents of a salad or other food item.
It is of my opinion that these plates should be stored carefully.  Since the serrated edges flare upwards (and not to the sides as with the round salad plates) it is a plate that should not be stacked on top of one another.  If space is limited – and you find that you have no alternative other than to stack them – make sure that you cushion each plate adequately in order to prevent any damage to the points.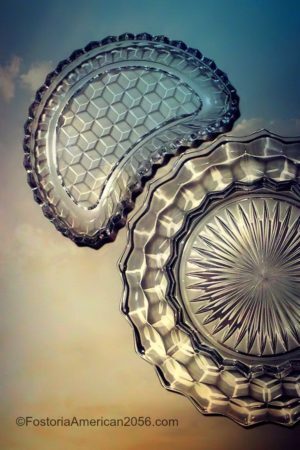 If a salad is served with the main course, it should be located to the left of your main dining plate – below the bread and butter plate.  This specific location is where the Crescent Salad Plate is a perfect fit, as it will accommodate and snug around the upper left curve of just about any round dinner plate.  Most spectacularly, it looks absolutely stunning when paired with its sibling – the Fostoria American Dinner Plate.  They make a handsome couple, indeed, and I have no intention of breaking them up after all these years.
While the Fostoria Glass Company described this dish as a "salad plate", it is very similar in shape to bone dishes – which are usually crescent-shaped as well.  These days, most bone dishes are considered antiques, as people rarely use them in today's world.  However, their proper placement on the table is in the same location as the Crescent Salad Plates.  Years ago, bone dishes were mainly used for placing discarded bones from fish at the dinner table.  That being said, one could still use the Crescent Salad Plate for such a use today – either for the bones of fish, chicken, or turkey. Over the years, I have used them many times for just such a task.  It is far more convenient for a guest to have a separate plate to discard small bones from their meat entree, other than to be forced to place them back on a plate they are still eating from. Having a separate bone dish for each guest ensures that they will have a more enjoyable dining experience, and it also provides the host with a better table presentation.
The Crescent Salad Plate did not have a long production life, only being made from approximately 1937-1944.  Therefore, these pieces are not common – and they are not cheap.  You can expect to pay quite a bit more for the crescent-shaped plates versus the regular round plates.  If you are interested in learning more about current availability and pricing, please click the following sponsored link for available Crescent Salad Plates on eBay.