The Cream Soup Plate is the exact same plate as the Mayonnaise Plate. The plates are approximately 7″ in diameter; however, slight variations in size are to be expected with handmade pieces.  The underplates were discontinued in the early 1970's.  Per my 11/1/74 Fostoria Glass catalog, the Cream Soup and Cream Soup Plates were no longer being offered at that time.
There were two variations of these plates produced over the years.  In order to keep the two dishes from sliding around on the plates, one version of the plates has a raised retainer ring in the center.  The second variation does not have a raised retainer ring; rather, it has a slight depression in the center of the plate.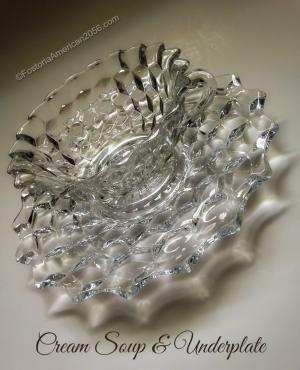 When the Cream Soup and the Underplate are paired together, they make for a beautiful duo.   The Cream Soup dish is quite lovely, boasting gently curved handles on both sides of its flared shape.
If you are interested in learning more about current availability and pricing for similar underplates, please click the following affiliate link for available Cream Soup Plates on eBay.