Item Number:  #380
Diameter:  3¾"
Production Dates:  1937-1980
The Coaster is an interesting item in the American #2056 line.  While there are a couple of variations of this piece, the Coaster featured in this post was produced longer than any other design.  It made its debut in 1937 and was produced for over forty years.  This Coaster (item #380) showcases the famed cubes all over its surface, encased within a circular glass rim.
The origin of the term "coaster" dates back to the mid-1700's, at a time when they were commonly used by household servants to hold decanters and wine bottles.  The intent of the coaster was that it would easily slide (or "coast") from one person to the next around the table.  Earlier coasters were often made out of wood, silver and paper.  Any type of coaster that slid easily would work – even glass.  These days; however, most people use coasters for an entirely different purpose.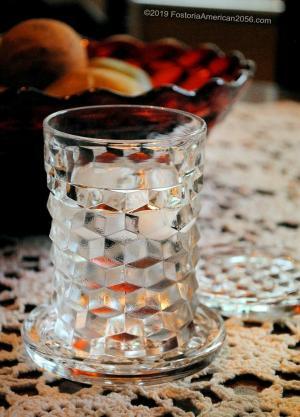 Today, we mainly use coasters to help protect the surface of a table from condensation and moisture.  This layer of protection also helps in protecting surfaces from being burned by hot beverages.  Many modern coasters are made from paper, cork, and wood – all highly absorbable materials.  Glass, while not being noteworthy for whisking away condensation, at least offers a layer of protection.  The American Coaster will not absorb moisture; however, it will happily catch the drips, and do so beautifully.
On a personal note, I like to use my American Coasters in other ways – in addition to table top protection.  For example, I also use them as toppers for drinks to prevent contamination from airborne particles or insects.  This strategy is wonderful for outdoor parties, keeping flies and other insects from getting in or near your drinking glasses.
For a dinner party, I will set them at each place setting.  Once the table is cleared, any drinks that have the coaster sitting on top of their glass signals me that the guest is not finished with their drink.  This strategy is a bit more formal; however, it works like a charm.  It eliminates posing the question "Are you finished with your drink?" over and over again to all your guests.
The Fostoria American Coasters are truly beautiful.  Each one is a little piece of art – approximately 3¾" in diameter.  If you would like to learn more about pricing and availability, please click the following sponsored link for available Coasters on eBay.