Item Number:  #319
Height:  6″
Production Dates:  1933-1982
Some of my most favorite items in the American pattern are the candlesticks.  Fostoria did not offer just one design; they offered several.  By having a choice of sizes and shapes, a hostess can find the perfect one for just about any occasion – whether formal or informal.  The six-inch Candlesticks have remained a favorite from the #2056 line, making them an affordable option for your next gathering.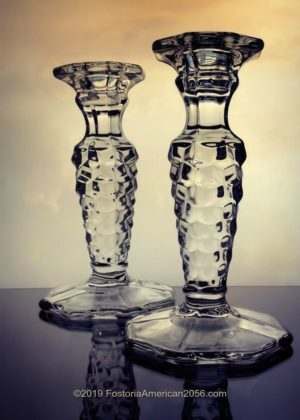 While I have said it many times before, it bears repeating … expect slight variations when it comes to size and appearance.  The 6″ Candlestick was made for a very long time.  During all those hard-working years, mould repairs and slight modifications were necessary.  While this candlestick is officially recorded as being 6″ in height, you can find them slightly smaller or taller.  Several from my own personal collection are 6¼" tall.  Some are thicker (or fatter) in the middle than others.  All; however, are beautiful.  Variations are to be expected with such handcrafted items.
These candlesticks are heavy, and very durable.  They have a picturesque base, bearing an octagonal design.  This eight-sided shape is also visible on the top part of the candlestick (the sconce).
While the 6″ Candlestick is beautiful by itself, its beauty is two-fold when displayed in pairs.  They were often featured in many Fostoria American print advertisements – either flanking a lovely crystal bowl or a family photo.  They are a perfect pairing for your table or console!
If you would like to learn more about pricing and availability for similar items, please click the following sponsored link for available Candlesticks on eBay.